Why Choose the Blood and Marrow Transplant Program
The Blood and Marrow Transplant (BMT) program at Children's Hospital of Philadelphia (CHOP) has been serving the needs of patients since 1976. Our program is recognized for its quality, service, innovative approaches and excellent patient outcomes. We have one of the highest volumes of pediatric blood and marrow transplant-eligible patients among BMT providers nationwide.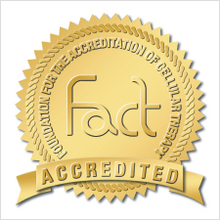 Everything your child needs in one place. Our state-of-the-art facility offers all transplant and supportive services at a single location where patient comfort and safety is the priority. This includes the inpatient unit, outpatient clinic, collection facility where we obtain the stem cells used in treatment, and a laboratory where those cells are prepared for the transplant. Should your child need it, the world-class Pediatric Intensive Care Unit (PICU) at CHOP is specially equipped to manage any serious side-effects that your child may experience following transplant.
Cutting-edge cell therapy technology. CHOP is one of the few pediatric blood and marrow transplant centers to have a Good Manufacturing Process (GMP) stem cell processing laboratory, the highest standard in drug and biologic manufacturing in the eyes of the Food and Drug Administration (FDA). We also have the most advanced immunogenetics (tissue typing) laboratory on site, which uses cutting-edge genomic sequencing techniques to provide detailed profiles of your child's disease to aid in treatment planning.
Excellence at all levels of care. Our institution attained Magnet® recognition as part of the American Nurses Credentialing Center's (ANCC) Magnet Recognition Program®. This voluntary credentialing program for hospitals recognizes excellence in nursing. Our nurses are certified as chemotherapy and biotherapy providers. CHOP BMT nurses are formally trained and experienced in the management of pediatric patients receiving cellular therapy, and inpatient nurses are also experienced oncology nurses.
Options for every child. For children who will need an allogeneic (non-self) transplant and do not have a fully matched family member, we have many options.
CHOP is a member of the National Marrow Donor Program (NMDP), which connects patients without a matched family member with appropriate, well-matched donors from around the country.
Statistics show that we find a suitable alternative donor faster than the national average for BMT providers.
Our program also enrolls qualified BMT patients in clinical trials as needed to allow for use of mismatched donors.
We are approved to perform high-level cell manipulation to reduce risk of rejection and improve outcomes for children receiving mismatched donor cells.
Regular contact with referring physicians. Our transplant team values the critical role of your child's doctor at home. We provide weekly status updates to referring physicians by email.