Blood and Marrow Transplant Program
Children who require a blood or bone marrow transplant (BMT) are often critically ill, requiring fast action by an experienced team. At Children's Hospital of Philadelphia, you will find just that. Our transplant program — part of the Cellular Therapy and Transplant Section — treats certain types of pediatric cancer, disorders of the blood and immune system, and a wide variety of other rare disorders and syndromes. We offer autologous and allogenic types of pediatric blood and bone marrow transplants. Autologous transplants use the patient's own stem cells. Allogeneic transplant uses stem cells from either a relative or an unrelated donor from the National Marrow Donor Program. The type of transplant a patient receives depends on the disease being treated.
Juvenile Myelomonocytic Leukemia (JMML): Kaleo's Story
Kaleo was diagnosed with juvenile myelomonocytic leukemia (JMML), a very rare form of cancer. One year after a bone marrow transplant, Kaleo is cancer-free.
View more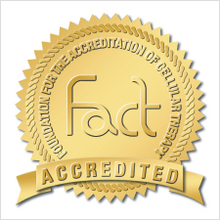 The Blood and Marrow Transplant (BMT) program at CHOP is recognized for its quality, service, innovative approaches and excellent patient outcomes. We offer families a state-of-the-art facility where all transplant and supportive services are provided at a single location and where patient comfort and safety are the priority. We are one of the few pediatric centers to have an on-site stem cell processing laboratory with the Good Manufacturing Process designation, the highest standards in drugs and biologics manufacturing in the eyes of the Food and Drug Administration (FDA). CHOP also has the most advanced immunogenetics (tissue typing) laboratory on site.
Conditions We Treat
Diseases treated by transplant include those listed below, as well as inborn errors of metabolism, other acute and chronic leukemias, bone marrow failure syndromes, and immunodeficiencies and immune dysregulation diseases.
Our Programs and Services
Whatever path your child takes in their care, we will partner with the appropriate experts here at CHOP to deliver the best possible outcome.
The blood and bone marrow transplant process has many steps, and our dedicated team has specialized expertise in each of them. Our team includes experts in the treatment of pediatric cancer, blood diseases and immune system disorders. Throughout the course of treatment, your child will be cared for by physicians, advanced practice nurses, nurse and non-nurse clinical coordinators, social workers, registered nurses, nutritionists, psychologists and child life specialists.