Fetal Surgery During a Pandemic: 'I Trusted CHOP'
Published on
Not many people can say they underwent fetal surgery and gave birth during a pandemic. But, Jasmin proudly says she would have done anything to give her daughter a brighter future.
Jasmin was 18 weeks pregnant when she learned her unborn daughter had myelomeningocele (MMC), the most severe form of spina bifida. Doctors near her home in Bluffton, South Carolina, explained the treatment options to Jasmin and her husband, Skylar: wait to have surgery after birth, or undergo complex fetal surgery during pregnancy.
"I knew we had to do something," Jasmin says. "We couldn't just wait and see."
Unfortunately, the timing couldn't have been worse. It was April 2020 and the United States was deeply embroiled in the COVID-19 pandemic. Millions of people had contracted the disease, most hospitals were closed for all but the most essential care, and their baby needed highly specialized surgery only available at a few hospitals nationwide.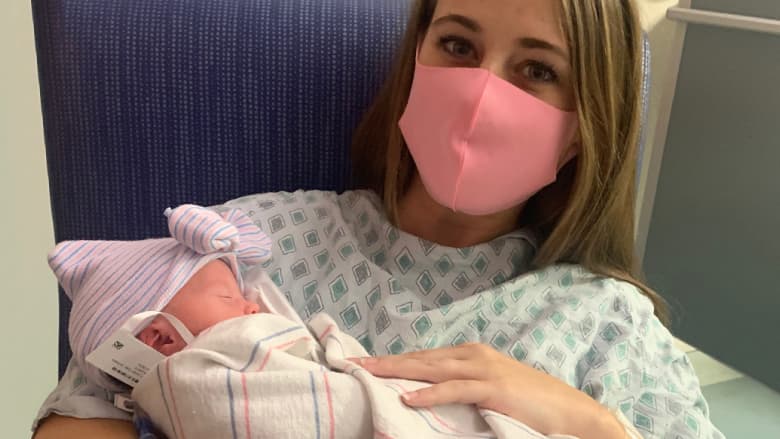 Help Us Transform Lives
When 'wait and see' isn't an option, CHOP is there for families — and generous gifts power our world-class care.
Searching for answers
While fetal surgery is not a cure, it offered hope for improved outcomes, including reducing the chances of fluid on the brain, enhancing mobility, and improving the chances their daughter would walk independently. Jasmin and Skylar started researching fetal surgery centers and landed on Children's Hospital of Philadelphia (CHOP).
"My heart was set on CHOP," Jasmin says. "They helped develop the surgery my daughter needed and all the information about the risks and benefits were readily available online. Before even meeting them in person, I trusted CHOP."
After several phone conversations with specialists from CHOP's Center for Fetal Diagnosis and Treatment (CFDT) to answer questions about their diagnosis and the logistics of arranging care and travel during the pandemic, Jasmin and Skylar came to Philadelphia for two days of intensive testing and a consultation to see if they qualified for the surgery.
"We knew we were coming to CHOP in the middle of the pandemic, but everything we learned about the hospital's and the CFDT's safety methods made us feel comfortable," Jasmin says. "We knew we could trust them to help our baby and keep us all safe from COVID-19."
Although the COVID-19 pandemic has posed new and unfamiliar challenges to those delivering care to pregnant women and their fetuses, since March 2020, CHOP's Center for Fetal Diagnosis and Treatment has continued to offer these essential services and adjust policies as needed to ensure the safety of all patients, families and staff. Between March and mid-July, the team performed 11 fetal surgeries for spina bifida. These expectant mothers have traveled from all over the United States.
Evaluation and surgery for spina bifida
In late April, Jasmin came to CHOP for additional tests that confirmed the baby's diagnosis and provided more details about the exact location of the spinal deformity. The CHOP team believed the baby would benefit from prenatal surgery, but it would need to act quickly to prevent further nerve damage.
On May 1, a multidisciplinary team, including Fetal Surgeon N. Scott Adzick, MD, MMM. FACS, FAAP, Director and founder of the CFDT, Pediatric Neurosurgeon Gregory Heuer, MD, PhD, Maternal-Fetal Medicine Specialist Shelly Soni, MD, specialized anesthesiologists and fetal surgery nurses performed the delicate prenatal repair.
After a short recovery at CHOP, Jasmin was discharged to her new home-away-from-home, a Hosts for Hospitals facility on a quiet farm in Newtown Square, PA. Because Skylar had to return to work, Jasmin's mother joined her at the farm for the remainder of the pregnancy.
Rest and recovery after fetal surgery
Jasmin spent the first three weeks on bed rest to avoid any complications from fetal surgery. Then, she could move around the farm for short periods of time each day.
Preparing for Your Visit
For 2½ months, she only left the farm to go to CHOP for weekly follow-up visits with maternal-fetal medicine specialists. Before each visit, Jasmin was screened for potential COVID-19 symptoms and exposures to ensure everyone's safety. Additional precautions included visitor restrictions and protective masks, as well as strict cleaning guidelines.
Welcoming Reagan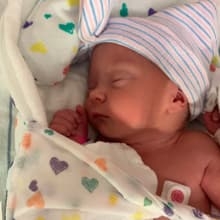 On the morning of July 16, Obstetrician Sheila P. Kambin, MD, delivered Reagan via C-section in the Garbose Family Special Delivery Unit, a specialized birthing unit at CHOP for healthy mothers carrying babies with known birth defects.
Reagan weighed 4 lbs., 11 ounces at birth. She had a few respiratory issues initially, but was breathing without support within hours. She had full movement of both arms, both hips and her left leg at birth; but further testing will be needed to determine her right leg function (club foot had developed before surgery). Over the two weeks following her birth, Reagan had additional testing of her brain, bladder and other organs, and was followed closely to make sure she was gaining weight and growing before going home.
Returning home
On July 31, Reagan was discharged from the hospital. She was eating well and did not require a shunt. Her parents say they'll be staying close to home — with very few visitors — while the COVID-19 pandemic is still active in the nation.
"We want to show off our new baby. We want to see family and friends," Jasmin says. "But for now, it's just safer for us to hunker down as a family at home."
Despite the challenges Reagan has already faced, her parents are optimistic about her future.
Says Jasmin: "Reagan's prenatal surgery and the care she's received — before, during and after birth — has given her the best chance to have an independent life and make her own decisions about her future. CHOP has given that to her — and to us — and we will forever be grateful."