Goldenhar Syndrome & Von Willebrand Syndrome: Aidan's Story
Aidan Lohne, age 2½, is a bundle of energy. As he dashes across the Children's Garden with older brother Casey giving chase, his infectious smile and tall frame belie the fact that Aidan is in need of ongoing, specialized clinical care that The Children's Hospital of Philadelphia can provide.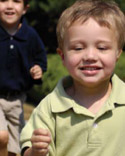 Aidan has Goldenhar syndrome, a rare congenital condition that left him without an ear or ear canal on the left side, and subsequently, deaf on that side. He also has Von Willebrand syndrome, a blood clotting deficiency, considered a type of hemophilia. It is a condition that could be life-threatening, especially for an active toddler.
In just one short year, Aidan has made more than a dozen unscheduled visits to CHOP's Specialty Care & Surgery Center in Voorhees, NJ.
There, and at eight other Specialty Care Centers (six in Pennsylvania and two more in New Jersey), multidisciplinary CHOP-trained pediatric specialists provide everything from diagnostic tests to lifesaving treatment for Aidan — and for thousands of children annually.
"For Aidan, even a minor injury can become critical, so he needs immediate, specialized care," Aidan's mother, Beth Lohne, says. "Hospital emergency rooms don't have the pediatric expertise that he gets at CHOP right here in New Jersey."
"This is a wonderful concept," Beth says. "It's extremely helpful to have a comprehensive team that coordinates Aidan's care."
Aidan also is a patient at the Hospital's Craniofacial Program on the main campus. The clinic offers coordinated, integrated care from a team of the world's leading pediatric experts. In just one day, Aidan is treated by professionals from more than 10 departments and services. Each specialist sees Aidan separately. They then meet as a team to better manage Aidan's care.
Grateful for the support they've received, Beth and her husband, Craig, are helping other families. Beth is a member of the Family Advisory Council. On a recent visit to Washington, DC, she advocated for Medicaid for families with chronically ill children. The Lohnes participate in the Leadership Education in Neurodevelopmental and Related Disabilities (LEND) Program, allowing a psychologist to shadow the family to learn about their experience.
"It's an education they can't get in a classroom," Beth says. Additionally, Beth is a LEND fellow herself, educating professionals about families' daily needs and struggles.
Beth says everyone, whether at the Main Hospital or Voorhees, takes family-centered care seriously.
"Child Life specialists spend time with Aidan and with our older son Casey. The social workers have done an amazing job of educating us and connecting us to resources to help our family stay strong. They care about Aidan and about how we function as a family.
"The expertise of CHOP is phenomenal, and they are 100 percent supportive — parents need to know that."