Janessa and Matt's Story: A Path of Healing
Published on
When Janessa and Matt learned one of their twins would not survive, the CHOP care team helped them prepare for the loss of one daughter, while finding joy in welcoming another.
Imagine experiencing the greatest joy and the greatest sorrow of your life on the same day.
Janessa and her husband, Matt, know what that's like. After a year and a half of fertility treatments, the couple was overjoyed to learn they were pregnant with twin girls. But at their 23-week ultrasound, their physician saw discrepancies in growth between the twins and referred the Ambler, Pa.-couple to Children's Hospital of Philadelphia's Richard D. Wood Jr. Center for Fetal Diagnosis and Treatment (CFDT).
An evaluation at the CFDT found that one twin (Kate) was healthy, but the other (Greta) had significant complications, including trisomy 18. The care team met with the couple and explained to them that Greta wouldn't survive long after birth if she even survived the pregnancy and labor.
"That was the worst day of our lives," recalls Janessa. "Hearing that the prognosis for one of our daughters was so severe."
There was a chance that if Greta died in utero, it could trigger preterm labor, so Janessa needed biweekly monitoring for the rest of the pregnancy. She could have had those appointments with her local obstetrician, but she chose to drive the 40 minutes to CHOP, ensuring her daughters were in the best hands possible.
"Right away at CHOP, the nurses, ultrasound sonographers, doctors and psychosocial support team just made us feel very comfortable and cared for," says Janessa. "We felt very blessed to have CHOP in our backyard and are very grateful we made the decision to continue our care with them."
Preparing the whole family
It was overwhelming for Janessa and Matt to live with the knowledge that they would soon experience a devastating loss.
"It's a very weird position to be in to learn that something incredibly unique and tragic is going to happen to you, but not for two months," says Matt.
For families expecting the loss of a child during or shortly after birth, the support provided by members of the CFDT's psychosocial support team is essential. The team tries to emotionally prepare parents and older siblings for what to expect both at the time of birth and after the death of a baby. As a way to decrease traumatic stress throughout this process, the couple met with Joanna C.M. Cole, PhD, clinical psychologist and Manager of psychosocial services for the CFDT, for emotional and psychological support and palliative care birth planning at each prenatal care visit. Per the couple's request, Dr. Cole also provided telephone outreach to several members of their extended family for additional support.
"That meant a lot to us, because no one in our family had ever experienced anything quite like this," Janessa says.
Over the next few months, the psychosocial support team partnered with the couple, preparing them for what to expect on the day of delivery, and helping them create a palliative care birth plan, which laid out details like who they wanted in the delivery room, how they wanted to introduce their family to their daughters and how they wished to say goodbye to Greta. They also gave the couple strategies on how to explain the diagnosis to their 3-year-old son, Chris, and help him cope with the situation.
"It helped us eliminate some stress because we were able to talk about [the birth plan] on a weekly basis, then talked about it at home to make sure we were on the same page," says Janessa.
"That preparation helped ease the unknown, reduce the fear and anxiety we were anticipating, and put us in a better mindset to deal with that day," adds Matt.
Easing the hurt
Janessa went into labor a week earlier than her planned c-section and gave birth in the Garbose Family Special Delivery Unit. Kate had some mild respiratory issues immediately after birth, so she needed to spend some time in CHOP's Harriet and Ronald Lassin Newborn/Infant Intensive Care Unit (N/IICU).
Knowing Kate was getting the best neonatal care in the world gave Janessa and Matt the confidence to focus all their attention on Greta, who was stillborn. The family held her and took pictures with her, and members of the Perinatal Palliative Care and Bereavement Program helped them engage in memory making by creating keepsakes such as handprints and foot molds.
"It was so special," recalls Janessa. "We never felt rushed or that we had to give Greta up. It definitely was challenging, going back and forth through the day with so many conflicting emotions, but we really were able to make what we wanted of that experience, which helped ease the hurt."
"Our only chance to make memories with Greta was that timeframe after she was born. We are never going to be able to tell her past that timeframe that we love her," adds Matt. "If you don't embrace the Perinatal Palliative Care and Bereavement Program, you are undoubtedly going to have regrets that you didn't take the time to be with your child. Holding her and taking pictures with my family and letting Janessa spend time with Greta is a great example of something that I never would have thought would be valuable, but it was incredibly helpful in starting the grieving process."
You're not alone
Three days after the delivery, Janessa and Kate were discharged home together.
"It was scary to leave the hospital because the doctors and nurses provided such support and encouragement and knew what we went through," says Janessa. "But then you are out in the real world, where people don't know your situation and the hurt you are experiencing and trying to process."
The psychosocial support team provided the couple with grief resources prior to Janessa's SDU discharge. Dr. Cole helped them explore their pending transition home and back to work and offered strategies on how to best communicate their needs to family members and friends. The CFDT Perinatal Palliative Care and Bereavement Program also followed up with the couple through phone calls, emails and handwritten correspondence several times throughout their first year post-loss.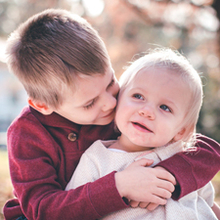 Kate is now a healthy, strong-willed, feisty 20-month-old who tries to keep up with her older brother. The couple feels fortunate to have had access to such a supportive team at CHOP, and to have a strong, supportive foundation in their family members, friends and members of their church, which has helped them immensely on their path of healing.
"When you first get the news, you feel so alone, but CHOP does a great job in helping you move past that feeling," says Janessa. "It's important to make sure you get the support you need because experiencing the loss of a child is something a person cannot and should not deal with on their own."
"You are not even remotely in a position where you can deal with this without professional support," adds Matt. "The support provided by the Perinatal Palliative Care and Bereavement Program is incredibly powerful and important. You have to have this. It goes hand in hand with the medical care that's provided."
As a way to remain connected to the team, the family held a fundraiser to support the Perinatal Palliative Care and Bereavement Program and attended the CFDT's annual Fetal Family Reunion last year. Most recently, Matt participated in a research project with Dr. Cole and colleagues that explored fathers' perspectives on perinatal grief when the death of a child is anticipated.
"We are forever tied to them," says Matt.
---
Next Steps
Appointments and Referrals (800-IN UTERO)