Scoliosis: Courtney's Story
Courtney Rone has a scar. From the middle of her shoulder blades straight down to her lower back is a faint white line and daily reminder of what she's overcome to keep doing what she loves.
At the age of 12, Courtney was diagnosed with scoliosis. "When I first learned I had scoliosis I didn't know much about it," she says. "I knew of course that it was a curvature of the spine, but beyond that, I had no idea of what might happen down the line." Courtney had started with a relatively minor bend in her spine but each year it seemed to be progressing much faster than expected. The hope was that wearing a brace would slow the progression before surgery was needed. But she was told that there was a chance she could one day need surgery if bracing was not effective.
That day finally came in 2015 when Courtney was 17. Wudbhav (Woody) Sankar, MD, Courtney's orthopaedic surgeon at The Children's Hospital of Philadelphia, told her she had reached the required level — spinal rotation of 53 degrees and 32 degrees. The brace had not worked for her, even though she'd been diligent about wearing it.
As the captain of her competitive dance team, pageant competitor, model and busy high school student, the thought of surgery was frightening. "To be honest, the first day that I was told I needed the surgery I thought, 'this is going to change everything.'" She worried about how treatment might keep her from her dance team or continuing her dream to model. She knew she would have scars from surgery, but didn't know exactly what to expect as a future goal.
Surgery with the promise of pursuing her dreams
Dr. Sankar recommended a posterior spinal fusion with instrumentation, in which he would correct the curve in Courtney's back and prevent it from getting worse. Dr. Sankar took Courtney's concerns about life after surgery seriously. "I believed in Dr. Sankar and his nurse practitioner, Sharon Farrell, completely," says Courtney. "They took the time to understand what was important to me and what I was expecting my future to hold. They reinforced that their goal and priority was to make sure my surgery would not stand in the way of my dreams, and that I'd have the same flexibility and strength after my spine had been fixed."
Dr. Sankar kept his promise. The evening of her surgery Courtney was sitting in a chair, the next morning she felt good enough to walk the hallways. Soon after she was at home recovering, taking walks three times a day. Within five months, she was back with her team easing into rigorous practices and ready to take on the world.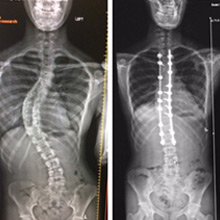 "Courtney is a great example of what can be achieved with scoliosis surgery at a place like CHOP," says Dr. Sankar. "We perform the highest-quality procedures for young people with spinal deformities and always consider a patient's individual lifestyle before making treatment decisions. While our priority is to safely correct and stabilize the spinal curvature, we always try to preserve the patient's flexibility if possible. Our goal is for patients to be able to return fully to the sports and activities that they love. And when you have the commitment to physical therapy that we saw with Courtney, the end result can be absolutely incredible."
Back in action
Getting back in the studio was powerful for Courtney. "I have been dancing since I was 4 years old," she says. "It's a part of who I am. Dance lets me express myself through movement, emotion and interpretation of music. It is a part of myself that I can share with everyone. My scoliosis is now just a piece of the experience. My rods and hardware, and everything I've been though, make me a better dancer and person, more determined to succeed, driven to do my best and show that scoliosis is not a game changer but just a part of who I am."
About eight months after surgery, Courtney and her dance team competed in a national competition, placing sixth in Pom routine and eighth in Jazz. "As a captain, I felt determined to make sure my team knew I was ready to go and ready to compete at the highest level. Because of Dr. Sankar's care, I was able to do the exact same routine as the rest of the team. My coach did not have to make a single change to accommodate me."
Nine months post-surgery, Courtney was in the spotlight once more, this time as a competitor in the Miss Teen New Jersey International pageant. "My platform was: Body Image, Finding Strength in Scars," says Courtney. "I wanted to remind people that scars are a recognition of success. There is a mental and physical strength it took to get through diagnosis, pre- and post-surgical preparation and recovery. The scar shows where you have been, not where we are going, something I think is important to remember." 
And now, Courtney can add pageant winner to an already impressive resume. She won the title of Miss Teen New Jersey International 2016, and is excited by the opportunity to have an impact on so many. "I see my title as a way to encourage others who may have a bump in their road. I want to show what can be achieved with a positive attitude."
---
Next Steps
Appointments and Referrals