Wilms Tumor: Donors Help Power Abbie's Fight Against Cancer
Published on
A month after having her kidney surgically removed and starting chemotherapy treatment, 7-year-old Abbie stood in front of her classmates and told them she had cancer and that one day soon she would lose her hair.
When that day came a few weeks later, Abbie and her family gathered together in an attempt to turn a sad milestone on her cancer journey into a joyful event. Abbie was scared to lose her hair, so she'd decided to get it shaved off all at once rather than endure it falling out piece by piece. As her father, Daniel, worked the clippers, Abbie's older brother and sister told jokes and tried to make her laugh. Dan and Abbie's mother, Jacqui, laughed along with her, but inside they were heartbroken.
"It was another thing Abbie had to cope with," says Dan, who had to step away after the haircut so his daughter didn't see him cry. "It was another visible sign that she was sick."
A devastating diagnosis
Abbie has had to cope with a lot this year. At the end of December 2018, after about a month of off-and-on stomach and back pain, vomiting, and constipation, she was diagnosed with Wilms' tumor, a cancerous tumor originating in the cells of the kidney. Wilms' tumor is the most common type of kidney cancer in children and accounts for about 6% of all childhood cancers. A CT scan of Abbie's chest showed that the Wilms' tumor was also in her lungs.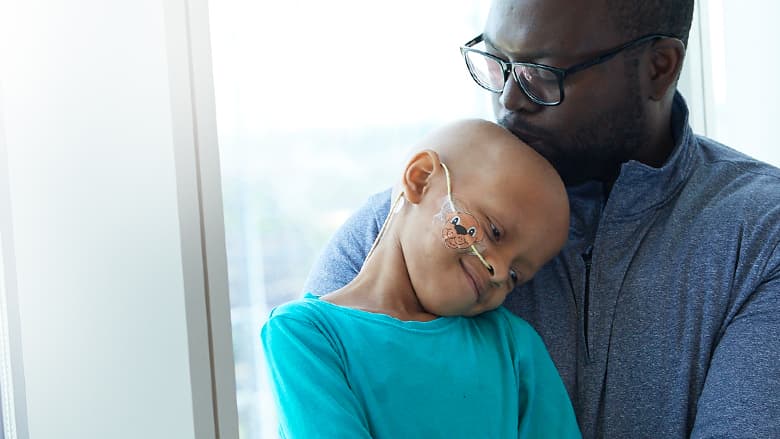 Your Gift Eases Families' Burdens
After a devastating diagnosis, our world-class medical care is enhanced by our meaningful programs that support them emotionally as well.
Abbie cried at the news. When she got home, she told her siblings she had a mass in her belly and needed surgery. They cried, too. Dan and Jacqui were beyond devastated. "Your whole world literally collapses in front of you and you lose every breath in your body and don't know how you're going to stand," says Jacqui.
But there was hope. Most children with Wilms' tumor are cured. As with any cancer, however, prognosis and long-term survival can vary greatly from child to child. Prompt medical attention and intensive therapy are important for the best prognosis. Continuous follow-up care is essential for a child diagnosed with Wilms' because side effects of radiation and chemotherapy may occur as well as second malignancy.
Two months after Abbie had her kidney removed, repeat scans showed the cancer in her lungs had responded to chemotherapy but had not completely disappeared, so she needed radiation of both her lungs and her abdomen. When treatment caused her to lose her appetite, she received a feeding tube to make sure she got the nutrition she needed.
Managing the journey with a focus on the future
Between shuttling Abbie to and from appointments and caring for her when treatment lays her low, Dan and Jacqui have both taken part-time family medical leave to manage it all. As tough of a journey as it's been, they credit their extended family, friends, surrounding community and CHOP team for supporting them through it all.
"I don't think we could make it without them," says Jacqui. "CHOP has been phenomenal. Everybody from the people that greet you at the desk, our nurses, the nurse navigator, our oncologist, our surgeon — the support and comfort that they give you is what you need to get through this."
Abbie has always been a happy, strong, energetic and sassy little girl. She looks forward to having that energy again and being able to run outside, play in the creek near her home and get muddy.
"She just wants to run around and scream like a normal little girl," says Jacqui. "She's amazing. I want people to see her strength and beauty."
The family is committed to raising awareness of the need for cancer research so that one day there will be a cure for every type of cancer.