Cancer Center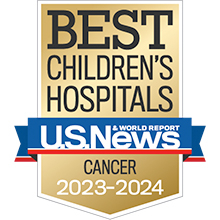 Cancer is not what parents imagine when envisioning their son's or daughter's childhood. When illness strikes, moms and dads want their child to get well as quickly, safely and permanently as possible so they can put sickness behind them and get back to the life ahead of them. At Children's Hospital of Philadelphia, our pediatric cancer treatment program is built to deliver on these goals. Here, your child will have access to the newest options in childhood cancer treatment, and a team of pediatric oncologists who are known worldwide for their expertise.
Emily Whitehead, First Pediatric Patient to Receive CAR T-Cell Therapy, Celebrates Cure 10 Years Later
Whitehead received life-saving treatment at CHOP, under the care of Dr. Stephan Grupp, transforming the field of cancer immunotherapy.
View more
Your child's oncologist is not only expert in delivering treatment, but is involved in the development of new ways to treat these diseases more safely, effectively and with fewer side effects. Some of the most significant breakthroughs in the treatment of pediatric cancers have happened right here at Children's Hospital.
Our Programs and Services
To get your child the best results our oncologists, surgeons, nurses and other providers are grouped into specialized treatment teams. These teams focus on the specifics of your child's diagnosis and promote strong relationships between the patient, family and clinicians allowing delivery of more effective care.
The Cancer Center team is comprised of world-renowned experts in pediatric cancer. We're here to care for your child and family every step of the way, from diagnosis and treatment through survivorship and long-term follow-up.
---
Next Steps
Existing Patients or Family Members
New Patients, Referrals and 2nd Opinions