What to Expect at the Main Hospital and Emergency Department During COVID-19
We understand this is a difficult and unusual time, and many families have questions about COVID-19. We want to reassure you that we are confident that we can safely provide the care your child needs. Here is some information about the new precautions in place for families in the hospital and Emergency Department that will keep you, your children and our staff safe.
"Is it safe to seek healthcare for my child?"
If you're looking for information related to outpatient visits at one of our Care Network locations (primary, specialty or urgent care), read more here.
Preparing for a visit to our Philadelphia Campus? Watch this video for a snapshot of what to expect when you get here:
Reducing parent, caregiver and sibling entry
To keep our patients, families and staff safe from the coronavirus (COVID-19) and other respiratory viral infections, no more than two healthy parents/legal guardians (18 and over) are allowed to visit patients in the hospital or accompany patients to any appointment at a CHOP location.
However, we strongly recommend that only one of these parents/legal guardians accompany your child at the bedside at a time, again in the effort to reduce the spread of COVID-19.
Parents/legal guardians must be healthy (without fever, cough or other concerning symptoms), and cannot have testing pending for COVID-19. If both parents/legal guardians are not healthy, we recommend identifying an alternate caregiver or partnering with our staff to support your child. We are sorry for any inconvenience this may cause.
Read more about who can enter CHOP locations.
What about siblings? For safety reasons, siblings are not permitted to visit. If you need to urgently bring your child to the Emergency Department, please ask a friend, family member or adult caregiver to help you take care of other children. Breastfeeding infants are permitted to be present with their parent.
My family is planning on visiting my child. What can I do? We ask that you contact any friends and relatives planning on visiting and let them know that they need to stay home. Families tell us it can be helpful to use technology to keep in touch, such as Facetime and Skype.
Can we have our spiritual advisor see our child? Spiritual care advisors are able to visit at this time with the support of our CHOP chaplain. Ask your nurse to connect with a CHOP chaplain to arrange this.
Your safety: Cleaning, screening, testing, masks and more
You will receive a call from one of our CHOP nurses or staff 24 hours or more before your child's scheduled admission, procedure or surgery with further information that is specific to your child. We will let you know at that time if there are extra precautions you need to take when coming to CHOP.
When you come to CHOP, please allow extra time to travel to the hospital and reach your destination while maintaining physical distancing. Also, please bring as few belongings as possible for admissions to reduce clutter.
Cleaning
We continue to follow all CDC guidelines for cleaning and have all the necessary supplies to properly perform cleaning and disinfection.
Watch: A Message from our Clean Team
We use only cleaning products that are effective against the virus that causes COVID 19. Cleaning of our facilities, including operating rooms, waiting rooms and patient rooms, is performed in accordance with infection control guidelines with frequent quality assurance checks by our Environment Services Department.
Screening and testing for COVID-19
Screening allows us to provide the best experience and care possible, considering factors like room placement, procedure timing, and isolation and precautions.
We screen all parents and caregivers for symptoms upon entry and admission. Additionally, we have implemented a daily screening for all parents and caregivers at the bedside in our hospital. Sick parents or caregivers are not allowed to stay at the hospital. Lastly, we ask all parents and caregivers to wear a mask throughout all CHOP locations and have set up waiting areas and public spaces for physical distancing.
We screen patients by asking questions about recent travel, possible exposure and symptoms when a visit is scheduled and again upon arrival.
We conduct testing for COVID-19 infection according to CDC guidelines. Currently, we test:
All patients admitted to CHOP prior their inpatient stay
All patients undergoing surgery and some procedures
Masks for everyone over 2
Based on current Centers for Disease Control and Prevention (CDC) guidelines, all parents/caregivers and patients over 2 years old should wear a mask over their mouths and noses while they are at any CHOP location. We will supply non-medical masks or you can bring one from home. Please let us know if your child has a hard time wearing a mask. This video can help kids understand why their CHOP providers are wearing masks.
Parents and caregivers need to wear their masks at all times in our facilities, including in your child's room when a staff member is in the room. Caregivers do not need to wear their mask while they sleep.
Not all masks provide effective protection against COVID-19. All masks should have two layers of cloth that fit tightly over your nose and mouth. It is also important to wear your mask properly, covering both your mouth and nose.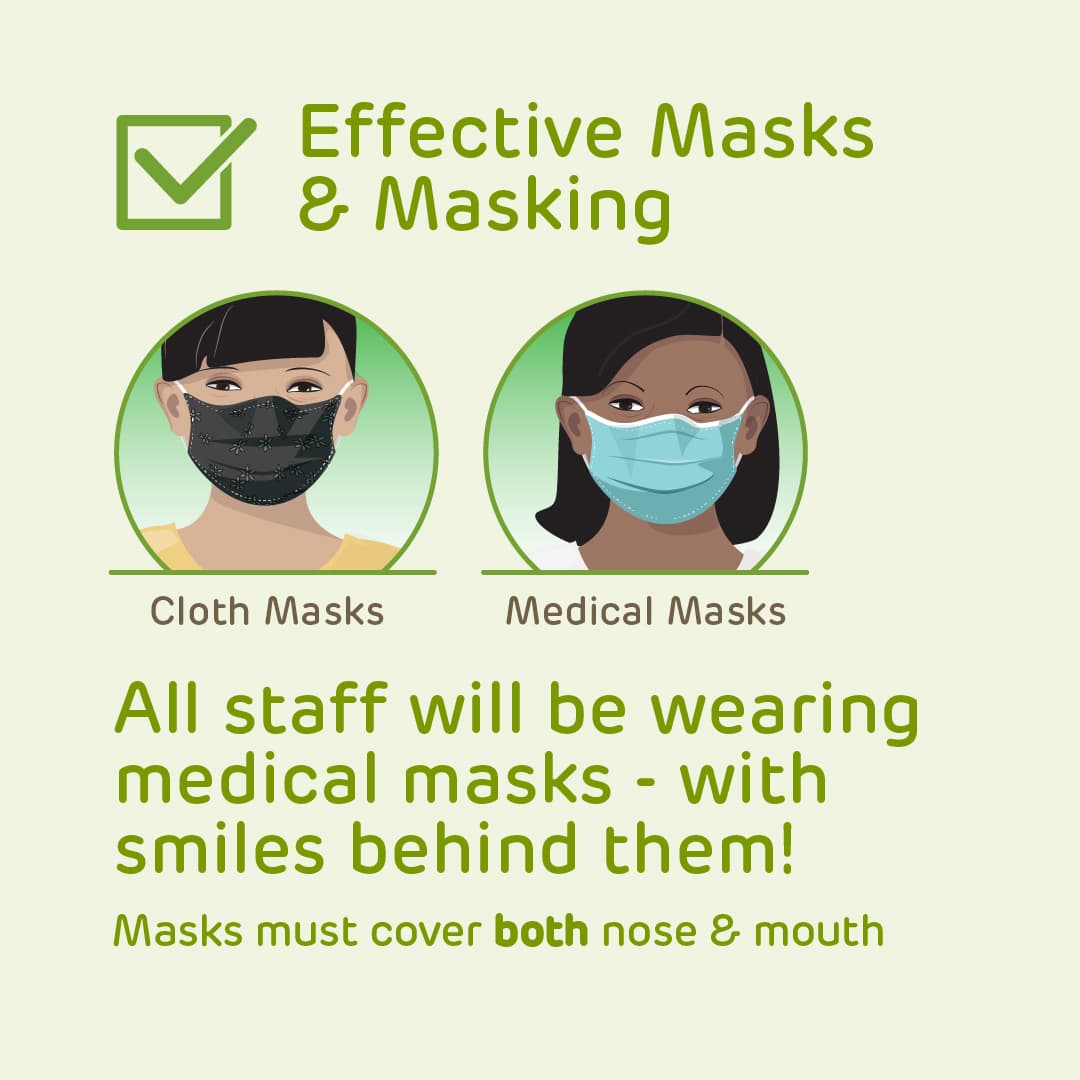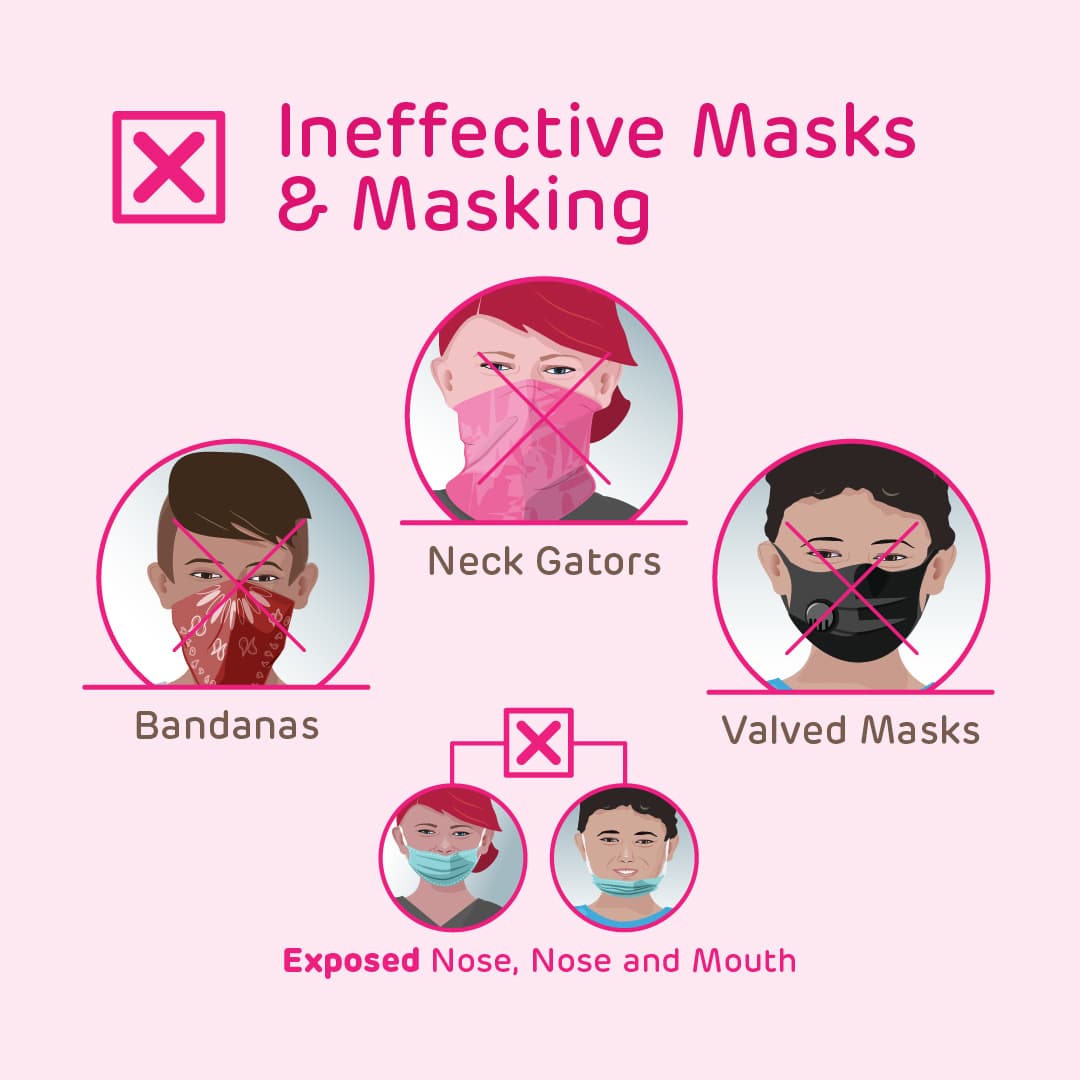 Hand hygiene and respiratory etiquette
Please help us prevent the spread of germs by practicing good hand hygiene and respiratory etiquette, including frequent handwashing, covering coughs and cleaning surfaces such as phones.
Physical distancing
While you are traveling to and from and within our facilities, we ask you to please stay at least 6 feet from others.
We have reconfigured waiting rooms and public spaces to promote physical distancing of 6 feet, while still providing enough spaces for families to sit. We have posted signage reminding everyone to physically distance and practice good hand hygiene and respiratory etiquette, including covering your cough. Parents and caregivers should maintain a safe physical distance of at least 6 feet from others, even when masked.
Staff precautions: Masks, gloves, eye protection
The most important precaution we take is hand hygiene. You will see this at all times during your interactions with staff. All staff are also required to wear masks while at work as part of our universal masking policy.
During your child's care, we may use different personal protective equipment (PPE) — including face masks, respirators, eye coverage, gowns and gloves — depending on the possible exposure of bodily fluids. If you don't see us wearing gloves it most likely means there is no exposure to bodily fluids. Our providers are able to keep their hands clean with access to hand sanitizer throughout all of our clinical areas. CHOP has sufficient PPE to ensure that our patients, parents/caregivers, and our staff our safe.
The CDC recently put out guidance encouraging universal eye protection for any healthcare worker who has direct patient interactions in communities with widespread COVID-19 transmission. Since we are seeing a rise in cases nationally and locally, CHOP has proactively moved to require healthcare workers to wear eye protection when interacting with patients.
The use of PPE does not replace our other safety recommendations, including universal masking, physically distancing, and staying home when ill. CHOP's employee sick policy requires that any ill staff member must stay home from work if they are feeling sick. Staff are required to self-monitor for symptoms and report any illness that may develop while at work.
Minimize your interactions in groups/crowds
We ask that you minimize time in crowds and group interactions as you move throughout the hospital. Group therapy and other group sessions will be adjusted appropriately to maintain a safe environment.
Please reduce your travel within our facilities as much as possible and physically distance when in elevators, hallways and other public spaces.
We encourage you to use our room service which is available for patients and families in most areas of the hospital. Please call 4-FOOD from your room phone for more information.
Virtual interactions with our care team
Just as we have restricted the number of visitors to our facilities, we have also asked some of our staff to work remotely. We have carefully considered which roles are able to do this and maintain safety and our services.
You may interact with some of our care team by phone or other means. We are committed to making sure you have access to staff and the resources you need during your time here with us. We continue to be appropriately staffed onsite and those staff are prepared to assist you with any needs you have.
Status of patient and family public spaces
We understand that during this stressful time it can be helpful to access other public areas of the hospital. In order to keep our patients and families safe we have closed some areas and limited hours on others.
These are the hospital spaces that are currently closed:
Center for Families and the Buerger Welcome Center.
Schlimm Center (our Prayer and Meditation Space).
Safety Center Store on the 1st floor of the Wood Building. Please call 267-426-5000.
You will find the following areas open with limited hours or number of people. We ask that you practice physical distancing while interacting in these spaces, and use hand hygiene before and after you visit:
Main Cafeteria (space has been reconfigured for physical distancing)
Lori's Gift Shop in the Main Hospital (maximum of five people)
Pharmacy on the 1st floor of the Main Hospital (maximum of three people)
Connelly Center (maximum of five people during the hours of 8 a.m. to 6:30 p.m.)
Lori's Gift Shop on 1st floor of the Wood Building (maximum of two people)
Buerger 6th floor Roof Garden (maximum of three families at a time)
Lactation rooms in the Main Hospital on the 1st, 2nd, 5th, 7th and 8th floors and in the Wood Building on the 3rd Floor. Lactation rooms are for pumping and breastfeeding individuals only and should be used one person at a time. Instructions for mandatory disinfection between uses are posted in the lactation rooms.
If you are anxious or frightened to bring your child to the hospital
We understand that you may be anxious about coming into the hospital. Emotional reactions or feelings of anxiety are natural. Please continue to ask us questions or tell us about your concerns. If you find you need more support/help please contact one of the following resources:
Your primary care provider
Philadelphia 24-Hour Mental Health Delegate Line: 215-685-6440
Emotional PA Department of Health (DOH) statewide hotline 1-877-PA-HEALTH
PADOH statewide coronavirus hotline 1-877-PA-HEALTH
Greater Philadelphia coronavirus hotline 1-800-722-7112
NJ statewide coronavirus hotline 1-800-222-1222
Updated: December 15, 2020
---
You Might Also Like