What to Expect in our Network (Primary, Specialty and Urgent Care) During COVID-19
Please note that because we are a healthcare facility, all eligible visitors, even if fully vaccinated, need to wear their masks at all times in all of our facilities and locations. Thank you for partnering with us to keep our patients safe.
Due to an earlier viral infection season than usual and high patient volumes, we are experiencing delays in appointment scheduling, wait times and test results. We apologize for this inconvenience and are working hard to fix these issues. Thank you for your patience. If you need a COVID-19 test, we encourage you to use testing resources in your community, such as pharmacies, health departments and schools.
We understand this is a difficult and unusual time, and many families have questions about COVID-19. We want to reassure you that we are confident that we can safely provide the care your child needs.
Here is some information about the precautions in place at CHOP Primary Care, Specialty Care, and Urgent Care locations that will keep you, your children and our staff safe.
If you're looking for information about a Main Hospital inpatient stay or Emergency Department visit, read more here.
Reduced parent, caregiver and sibling entry
In continued efforts to keep our patients, families and staff safe from COVID-19 and other respiratory viral infections, the following guidelines are in place at our Care Network locations.
No more than two healthy people are allowed to accompany patients to any appointment at a CHOP location. However, in the continued efforts to reduce the spread of COVID-19 in our patients who remain unvaccinated, we recommend that only one healthy parent/legal guardian accompany the patient at any time.
For outpatient visits, a sibling may be the second person accompanying the patient and the patient's legal guardian.
Any sibling age 2 and older is required to wear a mask.
Any sibling must be healthy and will be screened upon arrival, just like adult visitors (read more below).
All eligible visitors, even if fully vaccinated, need to wear their masks at all times in all of our facilities and locations, including in your child's room when a staff member is present.
Parents/legal guardians must be healthy (without fever, cough or other concerning symptoms), and cannot have testing pending for COVID-19. If both parents/legal guardians are not healthy, we recommend identifying an alternate caregiver or partnering with our staff to support your child. We are sorry for any inconvenience this may cause.
Read more about who can enter CHOP locations and other frequently asked questions »
Your safety: Cleaning, screening, masks and more
We may call you 24 hours or more before your child's scheduled visit, test, procedure or surgery with further information that is specific to your child. We will let you know at that time if there are extra precautions you need to take when coming to CHOP.
Please allow for extra time to travel to CHOP and reach your destination while maintaining physical distancing. Also, please consider bringing as few belongings as possible to reduce clutter.
Cleaning
We continue to follow all CDC guidelines and have all the necessary supplies to properly perform cleaning.
We use only cleaning products that are effective against the virus that causes COVID-19.
Cleaning of our facilities, including operating rooms, waiting rooms and exam rooms, is performed in accordance with infection control guidelines.
Screening and testing for COVID-19
Screening allows us to provide the best experience and care possible, considering factors like room placement, procedure timing, and isolation and precautions. When a visit is scheduled and again upon arrival, all patients, parents and caregivers are asked screening questions about symptoms and possible exposures. In addition, we ask all parents and caregivers, even if fully vaccinated, to wear a mask upon entering CHOP locations.
We conduct testing for COVID-19 infection according to CDC guidelines. Currently, we test all patients undergoing surgery and some procedures. We test patients in outpatient settings only when certain risk factors have been identified and the patient is eligible for testing.
Masks for everyone over 2
The Centers for Disease Control and Prevention (CDC) still recommends that masks be worn in all healthcare facilities.
We still have many patients who are not vaccinated and are at higher risk for disease. In order to keep them safe (along with their families and our staff), we ask all visitors, even if they are fully vaccinated, to continue to wear well-fitted masks over their mouths and noses while they are at any CHOP location. This includes all parents/caregivers and patients over 2 years old. Please let us know if your child has a hard time wearing a mask.
Parents and caregivers need to wear their masks at all times in our facilities, including in your child's room when a staff member is present. Caregivers do not need to wear their mask while they sleep or eat. We will supply non-medical masks or you can bring one from home. Thank you for partnering with us.
Remember not all masks provide effective protection against COVID-19. All masks should have two layers of cloth that fit tightly over your nose and mouth. It is also important to wear your mask properly, covering both your mouth and nose.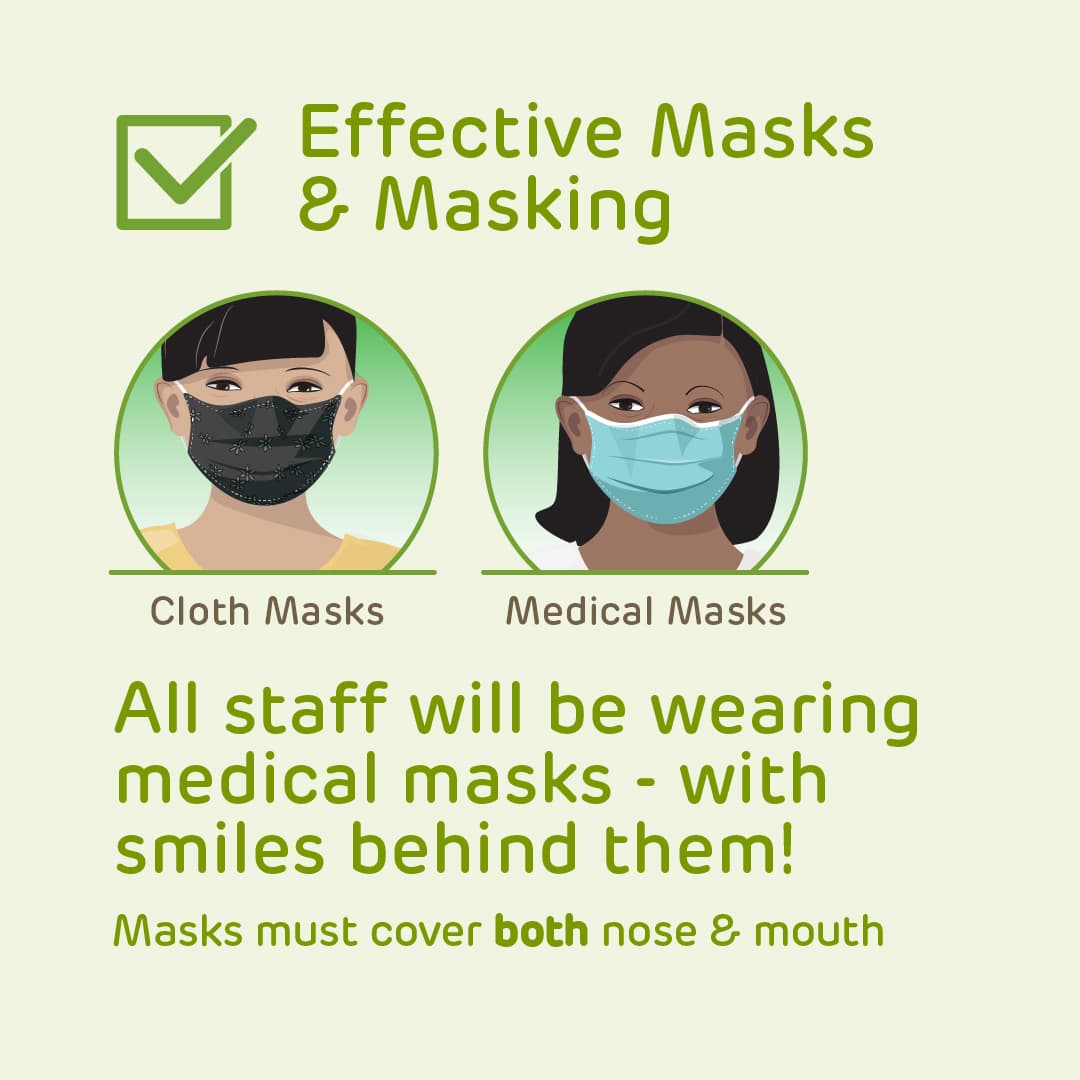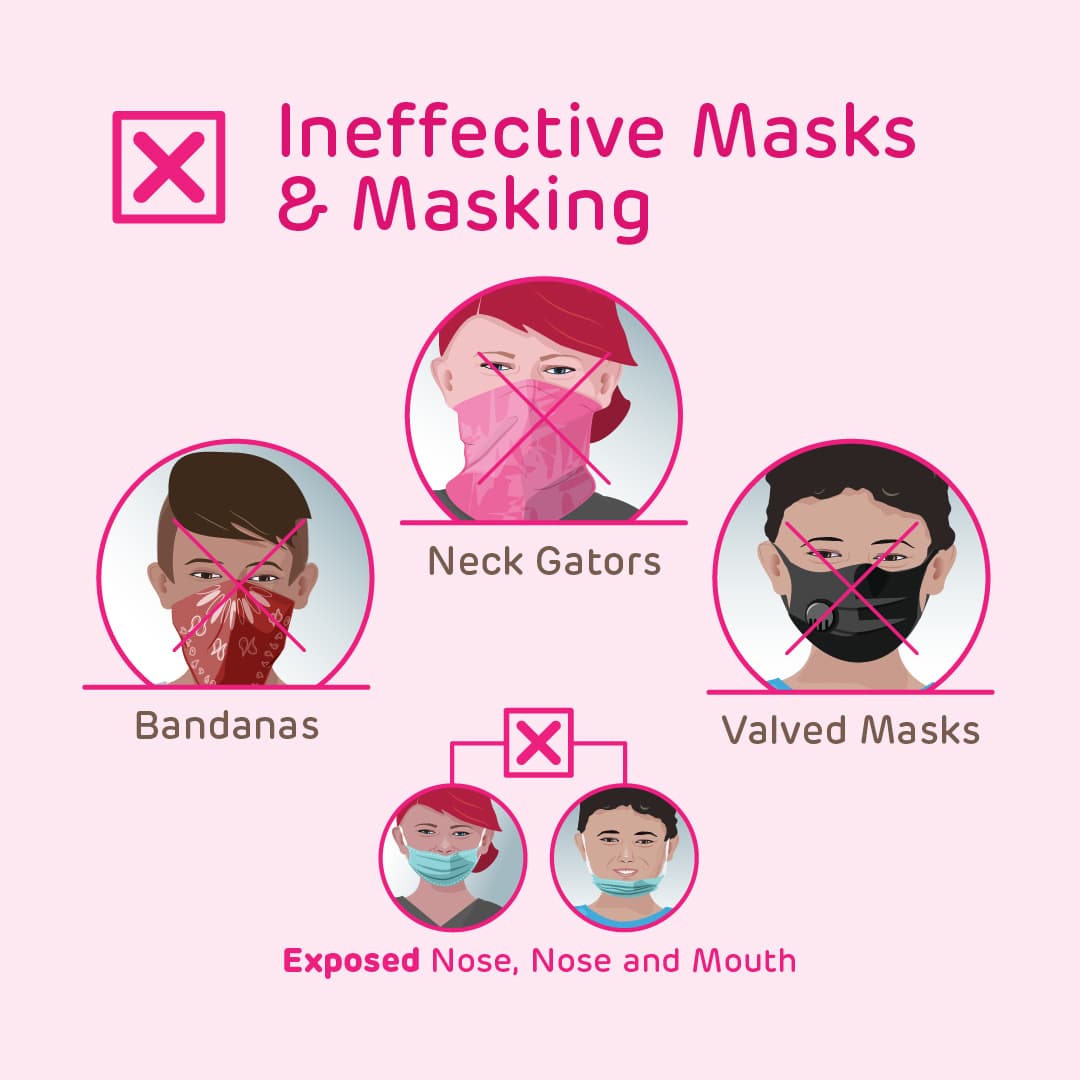 Waiting rooms
We try as much as possible to have an exam room ready for you and your child so you can go directly to it without sitting in the waiting room.
What to Expect at Your Visit
You may be offered the option to wait in your car or outside and be called or texted when the room is ready, or when your child is out of surgery.
We have reconfigured waiting rooms and public spaces to promote physical distancing of 6 feet, while still providing enough space for families to sit. We have posted signage reminding everyone to physically distance and practice good hand hygiene and respiratory etiquette, including covering your cough. Parents and caregivers should maintain a safe physical distance of at least 6 feet away from others, even when masked.
Staff precautions: Masks, gloves, eye protection
The most important precaution we take is hand hygiene. You will see this at all times during your interactions with staff. All staff are also required to wear masks while at work as part of our universal masking policy.
During your child's care, we may use different personal protective equipment (PPE) — including face masks, respirators, eye coverage, gowns and gloves — depending on the possible exposure of bodily fluids. If you don't see us wearing gloves it most likely means there is no chance of exposure to bodily fluids.
The use of PPE does not replace our other safety recommendations, including universal masking, physically distancing, and staying home when ill. CHOP's employee sick policy requires that any ill staff member must stay home from work if they are feeling sick. Staff are required to self-monitor for symptoms and report any illness that may develop while at work.
If you are anxious or frightened to bring your child to an appointment
We understand that you may be anxious about coming into the hospital or a doctor's office. Emotional reactions or feelings of anxiety are natural. Please continue to ask us questions or tell us about your concerns. If you find you need more support/help please contact one of the following resources:
Your primary care provider
Philadelphia 24-Hour Mental Health Delegate Line: 215-685-6440
Emotional PA Department of Health (DOH) statewide hotline 1-877-PA-HEALTH
PADOH statewide coronavirus hotline 1-877-PA-HEALTH
Greater Philadelphia coronavirus hotline 1-800-722-7112
NJ statewide coronavirus hotline 1-800-222-1222
Accessing ambulatory and outpatient care
Your child's ongoing care is just as important now as it was before the pandemic began. Don't delay care. Our Care Network locations are open and safe, and currently seeing patients for all types of appointments. If you'd like to schedule an appointment, feel free to call your provider's office or send a message through MyCHOP.
Telehealth video visits are still an option for many medical appointments, including consultations for a new issue, follow-up visits to see how a treatment or medication is working, and more. Your child's provider will work with you to determine what visits can safely and effectively be done by video.
*Please check with your health plan to confirm that your insurance covers video visits with your own CHOP providers.
Primary Care
Specialty Care
Online scheduling is available in MyCHOP for in-person visits for most specialties. If you would like to discuss appointments or speak with a nurse about your child's health, or need a MyCHOP account, please contact the specialty directly.
Our specialists can also offer video visits* in many cases. Telehealth options differ by specialty. Your specialist will consider whether telehealth is appropriate for your child when making a decision about your scheduled or new appointment.
Urgent Care and emergencies
Thank you for partnering with us and trusting us with your child's care.
Updated: Aug. 26, 2021
---
You Might Also Like