Why Choose the Wood Center for Fetal Diagnosis and Treatment
The moment you learn a baby is on the way, you want the very best for your child. Here at Children's Hospital of Philadelphia's Richard D. Wood Jr. Center for Fetal Diagnosis and Treatment, you'll find an unmatched level of care for babies with prenatally diagnosed birth defects. Every day we're searching for new ways to treat these life-threatening conditions, offering hope for a better future for all children with birth defects.
See what makes us unique:
View this video with a transcript
Experience and expertise
The Wood Center for Fetal Diagnosis and Treatment's multidisciplinary team has been together since 1995 and has experience treating some of the most complex fetal anomalies in the world, many so rare that a physician may encounter only one or two cases in a career. Center leaders were among the founders of modern fetal medicine and worked alongside other leading surgeons and researchers in experimental laboratories to develop the techniques that are used clinically today.
Our board-certified maternal-fetal medicine specialists, pediatric and fetal surgeons, physicians, and clinicians are pioneers in the field of fetal medicine. Our pediatric and fetal surgeons are recognized worldwide for their skill and excellent outcomes.
Through innovation and research, we are refining and advancing the techniques used to treat fetal conditions before and after birth, changing the course of treatment for many children with birth defects.
As one of the most active maternal-fetal centers in the nation, the expertise and experience of our Center staff is evident in our numbers and research:
We have a high volume of patients. Since 1995, we've cared for more than 30,426 expectant parents from all 50 states and 70 countries.
Our team has performed more than 2,246 fetal surgeries, more than any other program.
More than 750 combined years of research have been accumulated by Center staff.
More than 500 articles about our basic and clinical research and fetal therapy discoveries have been written by our staff and published in medical journals.
Our Center co-led the groundbreaking Management of Myelomeningocele Study (MOMS), an NIH-funded clinical trial that proved that fetal repair of myelomeningocele (the most serious form of spina bifida) can produce better outcomes than repair after birth. Fetal surgery for spina bifida is now a standard of care at our Center.
Researchers at the Center are actively pursuing stem cell and gene therapies as new options to treat specific birth defects and congenital conditions before birth.
Our team of full-time prenatal genetic counselors dedicated only to fetal patients is one of the most robust teams in a fetal center in the nation. These specialists collaborate with families to understand their needs and values, assess risk factors, facilitate genetic testing, and advocate for an answer to their prenatal diagnosis. We have run more than 17,000 genetic tests since 1995 and have unveiled seven novel genes. We have a 40% diagnostic rate from our testing, compared to an 10-20% diagnostic rate published by other providers utilizing this same testing technology in the prenatal patient population.
Conditions We Treat at the Center for Fetal Diagnosis and Treatment
Total cases: 30,426

Complicated Multiples: 4,312

Neurologic Abnormality: 3,876

Congenital Heart Disease: 3,869

Myelomeningocele (Spina Bifida): 2,883

Genitourinary Defects: 2,859

Gastrointestinal Anomalies: 2,343

Congenital Diaphragmatic Hernia:
1,845

Sacrococcygeal Teratoma: 386

Types of birth defects, by percentage and number, referred to the Center for Fetal Diagnosis and Treatment (CFDT) at CHOP (1995 - January 2023). Congenital heart disease is evaluated by the Fetal Heart Program, in collaboration with the CFDT.
Coordinated care in one location
One of the only maternal-fetal centers located within a pediatric hospital in the U.S., we offer comprehensive, family-centered care in one location, from diagnosis, genetic testing, prenatal management and birth in a special delivery unit for healthy mothers carrying babies with known birth defects, through postnatal care and long-term follow-up.
As part of one of the top-ranked and largest children's hospital in the U.S., our Center offers direct access to highly-qualified pediatric experts across every specialty that your child might need after birth.
Because of the depth and breadth of our experience, we are uniquely qualified to help you get the answers you need to make the best decisions for your family.
Here is what you can expect from us:
A full range of the most advanced fetal diagnosis testing available. Our patients have access to the most advanced diagnostic equipment and an experienced team that is specially trained to identify and diagnose rare fetal anomalies. Learn about our fetal imaging capabilities.
Detailed genetic testing and counseling as a standard of care. Our team can review any existing genetic screenings and answer questions about them, providing a deeper level of evaluation that can guide next steps and any additional genetic testing that might be recommended.
The world's first birthing unit dedicated to healthy mothers of babies with known birth defects. CHOP's Garbose Family Special Delivery Unit (SDU) is staffed and fully equipped to manage the delicate care you and your unborn baby require before, during and after fetal surgery, as well as the care needed at the time of your baby's delivery.
An experienced fetal surgery team. We're one of a few centers in the world to offer open fetal surgery for life-threatening conditions, as well as a wide range of other fetal therapies including minimally invasive fetoscopic surgery.
Excellence across every pediatric specialty. CHOP is consistently ranked among the best in the nation by U.S. News & World Report's Honor Roll of the nation's Best Children's Hospitals. This means your child will receive some of the best care available in the country at CHOP.
Expert newborn and infant care. After delivery, babies receive advanced care in CHOP's Harriet and Ronald Lassin Newborn/Infant Intensive Care Unit (N/IICU), consistently ranked among the best in the nation for newborn care by U.S. News & World Report. CHOP's neonatology specialists are incredibly experienced taking care of babies who have had fetal surgery, babies with birth defects, and babies who are critically ill or need immediate postnatal care. A unique Neonatal Surgical Team is prepared to perform delicate surgeries immediately after your baby is born.
A dedicated Fetal Heart Program for babies prenatally diagnosed with congenital heart disease. After birth, babies are treated in the Cardiac Center, one of the world's top pediatric heart programs.
Watch this video tour for an idea of what to expect when you come to our center.
View this video with a transcript
A supportive environment
From the first phone call, we coordinate all of your treatment, offering caring counseling and comprehensive support services.
Supportive services include:
Our dedicated psychosocial service team, including a clinical psychologist, psychiatrist and social workers, provides emotional support, individualized and couple's counseling, supportive therapy, and social work services.
We work closely with your physician to coordinate care — many expectant mothers can be monitored at home during their pregnancies.
We offer a supportive community to families that includes a dedicated Child Life specialist during your stay in the Hospital, and an annual on-site reunion.
We are experienced working with insurance companies and other payers to ensure you and your baby have access to the best treatment options available.
Providing an excellent patient and family experience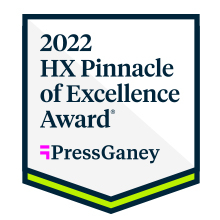 For three years in a row, the CFDT has been recognized by Press Ganey, a healthcare company that evaluates patient satisfaction, for excellence in the experience we provide to patients and families. In 2020, 2021 and 2022, the CFDT won the Pinnacle of Excellence Award®, recognizing the center's ability to maintain consistently high levels of excellence over multiple years.
---
Next Steps
Appointments and Referrals (800-IN UTERO)
---
You Might Also Like