Why Choose Us for Neuroscience Care
U.S. News:  Top-ranked Neuroscience Care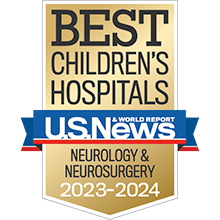 Our Neuroscience Center is consistently ranked among the top pediatric neurology and neurosurgery programs in the nation according to  U.S. News & World Report. To create the rankings, U.S. News surveys pediatric specialists across the country about where they would send their patients and integrates specific volume and outcome data provided by each children's hospital.
Recognized Leader in Clinical Care and Research
The Neuroscience Center is a recognized leader in pediatric neurology and neurosurgery clinical care and research. We have one of the largest and most accomplished teams of neurologists and neurosurgeons. Our team has the experience and comprehensive resources needed to diagnose and care for the full spectrum of neurological conditions.
Our investigators are discovering the causes of neurological disorders in children, improving how care is delivered, and discovering new therapies to improve the lives of children with neurological and neurosurgical disorders. We integrate these cutting-edge discoveries into our expert care to benefit our patients.
The Neuroscience Center team includes more than 250 staff members including neurologists, neurosurgeons, neuroscience-trained nurses and advanced practice providers, psychologists, social workers, case managers, genetics counselors, dieticians, pharmacists, and EEG technologists, all of whom are integrated with an extensive neuroscience research program. Our team is dedicated to providing every possible support for our patients and their families.
Neuroscience Center Excellence
As part of one of the top-ranked and largest children's hospitals in the United States, the Neuroscience Center offers access to pediatric experts across every specialty that you or your child might need.
Key attributes of the Neuroscience Center:
The skills and expertise to provide the best care for every type of pediatric neurology and neurosurgery condition
Team approach to care
Patient and family-focused services
Evidence-based care, with access to every resource needed
Constant drive to improve
High patient and surgical volume, which has given our clinicians a very high level of experience
Integration between care and clinical research, ensuring that our discoveries can immediately benefit our patients
Leader in clinical trials for new therapies, including gene and cell-based treatments
Research and Innovation
Our teams are improving the lives of children and teens with neurologic and neurosurgical disorders. We are actively conducting cutting-edge neuroscience research to better understand nervous system function and to develop innovative treatments, advancing care through clinical trials and clinical research, and optimizing care through quality improvement initiatives.
Our research teams focus on several key areas of discovery, including:
Harnessing scientific expertise and diverse research platforms to target pediatric cancers and rare diseases of childhood development, with pediatric brain tumors as an area of research emphasis through our D3B Program.
Epilepsy genetics research, pioneering discoveries of new genetic causes of epilepsy with the aim of turning these discoveries into novel treatments through our Epilepsy Neurogenetics Initiative.
Cutting-edge translational research in the rapidly expanding neuroimmune field to elucidate fundamental principles of normal immune/brain interactions as well as abnormal mechanisms involved across a range of neuroinflammatory diseases in conjunction with our Neuroinflammatory Disorders Clinic.
Bio-optics technology to monitor brain oxygen levels for children on lifesaving medical equipment such as defibrillators and circulatory pumps to ensure that patients receive treatment to maximize their brain oxygen levels, thus maximizing their quality of life upon recovery.
The study of novel and innovative therapies to treat rare neurological diseases like STXBP1 encephalopathy at the gene level.