Neuroscience Center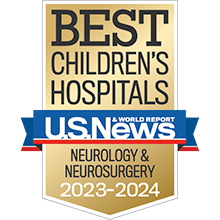 Each year, thousands of children with nervous system disorders seek care at Children's Hospital of Philadelphia's Neuroscience Center. Our Neuroscience Center brings together world-renowned specialists in pediatric Neurology and Neurosurgery to provide a precise diagnosis, individualized clinical care, and cutting-edge surgical treatment, and to achieve groundbreaking discoveries. Our divisions of Neurology and Neurosurgery are consistently ranked among the top 10 pediatric programs in the nation by U.S. News & World Report.
Gene Therapy for Duchenne Muscular Dystrophy: Cash's Story
Children's Hospital of Philadelphia now offers the first-ever gene therapy treatment for Duchenne Muscular Dystrophy (DMD) to patients like 6-year-old Cash. This breakthrough treatment slows the progression of symptoms and can improve strength and endurance for patients with DMD.
View more
The Neuroscience Center at Children's Hospital of Philadelphia provides world-class expertise in neurological and neurosurgical care. Our clinicians deliver cutting-edge, evidence-based, and compassionate clinical care and treatment. We lead in the discovery of new therapies.
Our Programs and Services
At our Neuroscience Center, you and your child will receive care from one of the largest and most accomplished teams of neurological and neurosurgical experts in the world. Our interdisciplinary team includes nurses, therapists, psychologists, genetic counselors, EEG technologists, dietitians, and child life specialists, as well as specialists from Anesthesiology, Psychiatry, Developmental Pediatrics, Neuroradiology, Neuropathology, Critical Care Medicine, Neonatology, Oncology and Cardiology. This collaborative approach to diagnosis and treatment yields the best possible care for your child.
---
You Might Also Like