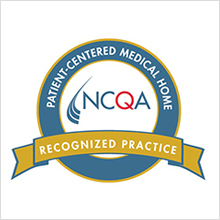 This practice has been awarded recognition by the National Committee for Quality Assurance Patient-Centered Medical Home Program. The Primary Care practice in Chestnut Hill, PA, is dedicated to providing pediatric care of the highest quality delivered with compassion, respect and true affection for children and their families.
As a Certified Medical Home through the Pennsylvania Chapter of the American Academy of Pediatrics, we strive to approach care to our families from a team-based model, which values the roles of all members of the team — from our clerical front desk staff to your child's primary clinician.
In order to provide comprehensive care addressing the physical, social, emotional and behavioral needs of our patients and families, our team includes a social worker as well as nurse care coordinators who assist families of children with chronic illness.
We aim to preserve the personal quality of our relationship with our patients by asking each family to select one primary clinician/provider who coordinates their care and develops a relationship over time. This relationship will be maintained as your child grows unless you request a change.
Dedicated to continuous quality improvement, we also value your feedback and input as to how we can make your experience most meaningful as your child grows.
About the practice
CHOP Primary Care, Chestnut Hill (formerly Kids First) is a member of the CHOP Care Network. We are committed to providing the highest quality care for your children.
All of our physicians are all board-certified pediatricians and fellows of the American Academy of Pediatrics. Our physicians are active members of the medical staff at Children's Hospital of Philadelphia.
If you would like to arrange a prenatal appointment to discuss your child's care, please call the office and our staff would be happy to answer your questions or arrange a prenatal appointment with the clinician of your choice.
For children and adolescents requiring hospital admission, we maintain close contact with the pediatric staff at all of the local pediatric hospitals.
We are also proud to be one of a handful of pediatric practices participating in the Governor's Chronic Care Initiative. Over the years, our practice has successfully improved care for our patients with asthma.
Well and sick visits
We are scheduling these visits now
Children under 2 who need immunizations (vaccines)
School-age children who need mandatory back-to-school physicals and immunizations for the coming school year (kindergarten, 6th and 11th grade)
Any child behind on immunizations
Sports physicals
Sick visits
Visits can be scheduled for new and established patients. For well visits, please call three months in advance. For sick visits, please call in as early as possible.
If you have a change in address, phone number or insurance information, please notify our receptionist. All patients younger than age 16, and all new patients must be accompanied by a parent or authorized adult guardian in order to be evaluated by a clinician.
Well visits schedule
Routine well visits are scheduled to provide complete assessment of your healthy child. Usually immunizations or lab studies are included.
Your child should be seen for well exams at the following ages:
3-4 days for weight check with our nurses
2 weeks for the first full exam with a clinician
2, 4, 6, 9, 12, 15 and 18 months
2 years, then once a year until age 21
We offer vision and hearing screening, an on-site lab, tympanometry, spirometry, a comprehensive asthma program, parent education materials and many other services. We can also perform minor surgical procedures such as freezing warts, suture removal, and drainage of abscesses.
Walk-in visits
*As of March 16, 2020, walk-in visits are suspended until further notice to keep our patients, families and staff safe from the coronavirus.
Walk-in appointments are available for established patients with acute health concerns, including:
Minor injuries
Fever
Rashes
Sore throat
Cough and cold (without wheezing)
Eye problems
Ear pain
Pain with urination
This service should not be used by patients with chronic medical problems, including:
Chronic or recurrent headache
Asthma (with wheezing)
Chronic or recurrent abdominal pain
Behavior problems
Gynecological issues
Missed appointments
We continuously try our best to respect your time by seeing your child as promptly as possible. We appreciate your help in being on time for your appointment. If you are unable to keep your appointment, please call in advance to cancel and reschedule. This helps both our office and our families.
If a patient misses an appointment without notification we consider this a "no show" appointment. A letter will be sent to the family explaining our no show policy. Our well visit appointment schedules are booked in advance and if you should need another appointment after a no show you will be offered our first available appointment which can be several months out. Continuity of care and timely visits are of utmost importance for you and your child, please call us if you cannot keep your appointment.
Insurance and payments
Please call our Financial Counselors at 1-800-664-7855 to discuss your out of pocket expenses. Learn how to be financially prepared for your visit to a CHOP location.