2011 EPOS Traveling Fellows Visit CHOP Orthopedics
Published on in CHOP News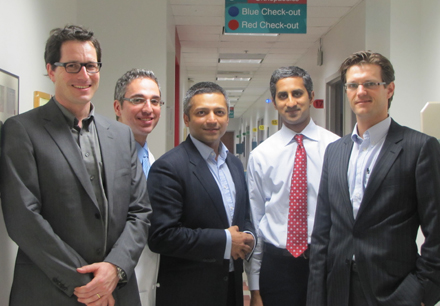 June 22, 2011 — Three European orthopaedic surgery fellows visited CHOP's Division of Orthopedic Surgery on May 23 to spend a day observing our physicians. Manoj Ramachandran from London, England; Antoine de Gheldere from New Castle, UK; and Micha Langendoerfer from Germany, shadowed attending physicians in the Orthopedic Surgery outpatient clinic and in the OR. This was followed by a dinner and an opportunity for the visiting fellows to present clinical research projects they have completed.
The 2011 traveling fellowship began during the Pediatric Orthopaedic Society of North America (POSNA) Annual Meeting May 11-14 in Montreal, Canada. Following the meeting, the traveling fellows visited the Shriners Hospital in Montreal and the Hospital for Sick Children in Toronto. Then, they arrived in Philadelphia on May 21 to visit A.I. Dupont Hospital and The Children's Hospital of Philadelphia. The fellows departed Philadelphia for New York on May 24 to visit Columbia Medical Center. They returned home on May 26.
About the EPOS traveling fellowship
The EPOS traveling fellowship is a program created by POSNA and the European Pediatric Orthopaedic Society (POS). The program offers young pediatric orthopedic surgeons the opportunity to travel and shadow other orthopaedic surgeons abroad.
In 2010, three American fellows traveled to Europe to visit hospitals in that region and, this year, three European fellows traveled to the United States and Canada.