CHOP Breaks Ground on Specialty Care Center in Plainsboro, NJ
Published on in CHOP News
September 24, 2013 — The Children's Hospital of Philadelphia (CHOP) today broke ground on a 25,000-square-foot Specialty Care Center on the new campus of the University Medical Center of Princeton at Plainsboro, located at the intersection of Route 1 and Plainsboro Road. The Center will replace an existing one located on nearby Alexander Road in Princeton.

The current Center, which opened in 2000, has 16 medical and surgical specialties, including ENT, ophthalmology, orthopedic surgery, neurology and gastroenterology. It is one of more than 50 CHOP Care Network locations in New Jersey, Philadelphia and the surrounding counties offering top-ranked primary and specialty care services to families close to home.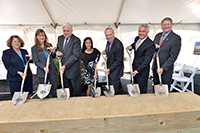 Pictured (left to right): NJ Senator Linda Greenstein; Jennifer Winell, MD, Department of Surgery, The Children's Hospital of Philadelphia; Plainsboro Mayor Peter Cantu; CHOP patient Danielle Hirsch; Steven M. Altschuler, MD, Chief Executive Officer of Th
The new space will provide an additional 15,000 square feet, with the ability to expand up to a total of 100,000 square feet, to allow for future program growth. The new Center will house all of the existing programs and specialties and add physical, occupational and speech therapy, as well as diagnostic X-ray, providing greater convenience and continuity of care for patients and families.
"We continue to increase the CHOP Care Network offerings to meet the needs of our patients seeking first-class care close to home," said Amy Lambert, senior vice president of the CHOP Care Network. "This new space will make it possible to provide additional services right here in New Jersey, in a state-of-the-art, family-friendly facility."
Construction is expected to be completed in early 2015.
About the CHOP Care Network
The Children's Hospital of Philadelphia Care Network has more than 50 locations in southeastern Pennsylvania and New Jersey, offering top-ranked primary and specialty care services in convenient community-based locations. Visit www.chop.edu/about-us/our-pediatric-network for more information about specific services at each location.