CHOP Fetal Surgery Team Featured in Nurse Magazine
Published on in CHOP News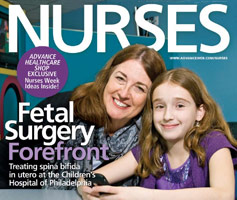 April 28, 2011 — Advance for Nurses magazine highlights the role of nurses and advanced practice nurses in a national study conducted at The Children's Hospital of Philadelphia that found prenatal repair of spina bifida produced superior outcomes for patients than postnatal repair.
The groundbreaking research and treatment for myelomeningocele, the most severe form of spina bifida, has changed the course of the disease for many diagnoses in utero.
Hear from Lori Howell, MS, RN, executive director of CHOP's Center for Fetal Diagnosis and Treatment in Fetal Surgery: Seeing is Believing.