CHOP Genome Center Aids Discovery of New MS Genes
Published on in CHOP News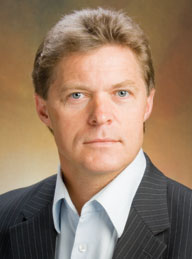 Hakon Hakonarson, MD, PhD October 8, 2013 — A CHOP genome researcher was a co-author of the largest-ever genetic analysis of the chronic neurological disease multiple sclerosis (MS). An international consortium identified 48 new gene variants associated with the disease, reinforcing the important role of the immune system in MS. By better understanding disease processes in MS, scientists seek clues to designing more effective treatments.
Hakon Hakonarson, MD, PhD, director of the Center for Applied Genomics at The Children's Hospital of Philadelphia, is a member of the International Multiple Sclerosis Genetics Consortium, which comprises nearly 200 investigators from 84 research teams around the world.
The scientists published their findings online in Nature Genetics on Sept. 29. The study leader was Jacob McCauley, PhD, of the University of Miami.
Using a custom-designed genotyping tool called the ImmunoChip, the consortium analyzed DNA samples from approximately 29,000 individuals with MS and 51,000 healthy controls. The 48 gene variants they discovered nearly doubles the number of gene variants associated with MS.
As in other complex diseases, many genes and environmental factors interact to influence patients' risk of developing MS. Many of the gene variants discovered in the current study overlap with those found in other autoimmune diseases, such as inflammatory bowel disease, celiac disease and rheumatoid arthritis. In all of these, a patient's immune system mistakenly overreacts, with disruptive effects to health. "Identifying those gene variants that cluster on specific gene pathways and networks is perhaps most compelling, as therapeutic interventions at the pathway level could benefit a large number of patients," said Hakonarson.
Contact
John Ascenzi, Children's Hospital of Philadelphia, 267-426-6055, ascenzi@email.chop.edu