CHOP Plastic Surgeon Goes on Surgical Mission Trip
Published on in CHOP News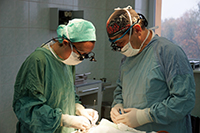 Drs. Jackson and Vástyán repairing cleft palate in Ukraine. February 20, 2014 — In October 2013, CHOP plastic surgeon Oksana Jackson, MD, participated in a surgical mission trip that took her to Pécs, Hungary and Mukachevo, Ukraine, where she collaborated with local physicians to operate on children with complex cases of cleft lip and palate.
Dr. Jackson's visit was part of the 8th annual surgical mission trip to the Transcarpathian region of the Ukraine organized by Dr. Attila Vástyán, MD, PhD, assistant professor of pediatric surgery at the University of Pécs and chief of the Cleft Team at the Children's Hospital of Pécs in Hungary. The Children's Hospital of Pécs has an ongoing collaboration with the Regional Children's Hospital, Mukachevo, Transcarpathia, Ukraine. Dr. Yelyzaveta Birov, Chief of Regional Children's Hospital, organized and hosted the mission in Ukraine.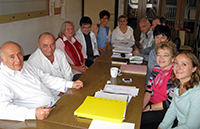 Dr. Jackson with Pécs cleft team, including Andras Pinter (front left), the retired chief of pediatric surgery and founder of Pécs cleft team. The Children's Hospital of Pécs was the site of the 1st ACPA Ambassadorship Program in which members of the CHOP Cleft Lip and Palate Program team traveled to Pécs to help them establish a multidisciplinary cleft team of their own. Dr. Vástyán has also visited the program at CHOP under the mentorship of Dr. LaRossa. Dr. Jackson's most recent trip represents an ongoing collaboration between the institutions and a commitment to providing cleft care needed by children across the world.
The trips to Ukraine are sponsored and organized by the SARA: Sharing America's Resources Abroad.