Good Morning America Introduces Formerly Conjoined Twins
Published on in CHOP in the Media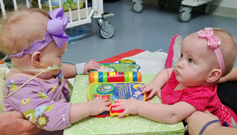 December 20, 2012 — Formerly conjoined twins Allison and Amelia Tucker were introduced to the world after being successfully separated on Nov. 7, 2012 by a 40-person multidisciplinary team led by Holly Hedrick, MD, pediatric general, thoracic and fetal surgeon at CHOP.
The girls were born via planned C-section on March 1, 2012 in CHOP's Garbose Family Special Delivery Unit, the world's first birthing unit dedicated to mothers carrying fetuses with known birth defects.
After delivery, the girls spent their first seven weeks of life in the Harriet and Ronald Lassin Newborn/Infant Intensive Care Unit (N/IICU) before moving to a surgical step-down unit where they stayed as they made the preparations necessary for separation surgery.
Watch the Good Morning America story introducing Allison and Amelia.