Introducing Two Recently Separated Conjoined Twins
Published on in CHOP News
Allison June and Amelia Lee Tucker, formerly conjoined twins, were separated at The Children's Hospital of Philadelphia on Nov. 7, 2012.
December 20, 2012 — Two beautiful baby girls had their public debut today at The Children's Hospital of Philadelphia: Allison June and Amelia Lee Tucker, formerly conjoined twins, separated at the Hospital on Nov. 7. The Hospital held a press conference this morning to highlight this new phase in the lives of both infants.
Now nearly 10 months old, the twins, from Adams, NY, were born joined at the lower chest and abdomen, and sharing their chest wall, diaphragm, pericardium and liver. Until Allison's discharge 3 days ago, both girls had spent their entire lives inside Children's Hospital. Amelia, who requires a longer recovery time, will be staying at the Hospital into the new year.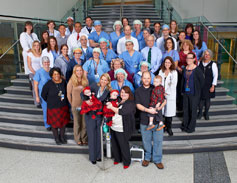 "Both Allison and Amelia are doing well, and we expect them both to enjoy full, healthy and independent lives," said Holly L. Hedrick, MD, the pediatric general, thoracic and fetal surgeon who led the 40-member multidisciplinary team that carried out the complex 7-hour separation early last month. It was the 21st time that The Children's Hospital of Philadelphia (CHOP) has separated a pair of conjoined twins.
"Greg and I are thrilled that our daughters have been given this remarkable gift by the amazing team from The Children's Hospital of Philadelphia," said Shellie Tucker, the twins' mother. "We are so grateful for the support and encouragement that the medical team, our families and our friends have given us during this long journey."
Shellie and Greg Tucker first learned that Shellie was carrying conjoined twins about 20 weeks into their pregnancy. They were quickly referred to CHOP's Center for Fetal Diagnosis and Treatment for expert evaluation, including prenatal imaging: fetal MRI, fetal echocardiogram and ultrasound.
After comprehensive testing, the Center's team determined that the Tucker girls were excellent candidates for separation. Following specialized prenatal care at CHOP, Allison and Amelia were born March 1 in a planned C-section delivery in CHOP's Garbose Family Special Delivery Unit, the world's first birthing unit exclusively for mothers carrying fetuses with known birth defects.
After delivery, the girls spent their first seven weeks of life in the Harriet and Ronald Lassin Newborn/Infant Intensive Care Unit (N/IICU), and then moved to a surgical step-down unit.
Planning for last month's separation surgery and reconstruction climaxed months of teamwork by staff members from multiple areas of the hospital. To take just one example of the crucial preoperative preparation, months before the separation, plastic surgeon David W. Low, MD, and his team inserted skin expanders into both infants to increase the skin surface available to cover exposed tissue after the twins were separated.
Early on the morning of Nov. 7, anesthesiologist Philip Bailey, DO, led the surgical preparation for the separation procedure. Throughout the day-long operation, he coordinated with team of 6 anesthesiologists, monitored the twins' vital signs, and administered anesthesia.
In a tightly orchestrated, complex procedure, physicians, nurses and other medical staff from general surgery, plastic and reconstructive surgery, cardiac surgery, radiology, and neonatology participated in the separation, which ended at 3:40 p.m.
Since the surgery, neonatologists, pulmonary, nutritionists, child life developmental care team and other specialists have closely followed the twins to ensure that they receive the best clinical care as they thrive and grow.
"The ability to plan and carry out this type of surgery is testament to the skill and expertise available here at The Children's Hospital of Philadelphia," said N. Scott Adzick, MD, CHOP's surgeon-in-chief. "I am extremely proud of Dr. Hedrick and her team for their courage, dedication and expertise. These two beautiful babies now have a promising future because of the love and courage of her parents who entrusted their daughters to our care."
Contact
Ashley Moore, Children's Hospital of Philadelphia, Phone: 267-426-6071 or 215-630-4683, Moorea1@email.chop.edu
---
You Might Also Like