Lurie Family Gift Supports Autism Research at CHOP
Published on in CHOP News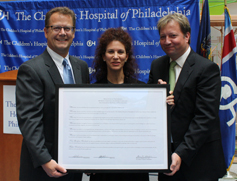 the continued progress and success of our autism research programs," he said "We are extremely grateful to Christina and Jeffrey Lurie for their remarkable generosity and partnership." December 5, 2011 — Christina Weiss Lurie and Jeffrey Lurie, Eagles owners and co-founders of the Lurie Family Foundation, announced a $2.5 million gift today to The Children's Hospital of Philadelphia's Center for Autism Research (CAR) and Center for Applied Genomics (CAG). The gift will support genetic and brain imaging research to enable earlier diagnoses and more effective treatments for autism spectrum disorders (ASD) that will help families of children with ASD. More children affected by ASD but little known about its causes
"Autism spectrum disorders affect one in every 100 children in the United States, and the rate has increased dramatically in the last 15 years. However, little is known about the causes of ASD or effective treatments," said Christina Weiss Lurie. "We searched the world to find the most advanced research facility to partner with and we were pleased to find it in our own backyard at CHOP's autism and genomics research centers. We are proud to continue to support CHOP's autism researchers to help provide answers and guidance for families of children with ASD based on the most cutting-edge research in the field."
Lurie gift to support search for ASD genetic links and study of brain function in children with ASD
Steven M. Altschuler, MD, chief executive officer of CHOP expressed his gratitude at a press announcement yesterday. "Contributions from families like the Luries are vital to
The $2.5 million gift will support two distinct lines of research. The majority will fund joint research by the Center for Autism Research and the Center for Applied Genomics examining genetic samples from 1,000 individuals with an ASD, to look for new genetic variants that might be related to an ASD. As part of this one-of-a-kind study, families will have the option of receiving individualized genetic test results and the opportunity to discuss the results with a genetic counselor. This information may help families as they consider future treatments, interventions, and family planning decisions.
"We have identified several genes that play an important role in autism and this major gift from the Luries now enables us to translate these discoveries into innovative therapeutics that are tailored towards preventing the onset of autism in infants and toddler and treating the symptoms of autism in older children who have specific genetic causes for their disease," said Hakon Hakonarson, MD, PhD, Director of The Center for Applied Genomics at CHOP.
The remainder of the gift will support research using MEG technology (magnetoencephalography) at the Lurie Family Foundation's MEG Imaging Center at CHOP. This study will follow school-aged children over time as they develop, and will measure the brain's activity in real time in order to better understand brain development and differences in the way the brain processes signals in children with ASD.
"Autism spectrum disorders involve many genes. We need foundational gifts like the one from the Luries to start large scale studies capable of separating out the different genetic risks. We need to identify and better understand each of the genetic risk factors, their unique functions and their specific impact on the child's development," said Robert T. Schultz, PhD, Director of the Center for Autism Research.
"We are especially excited about the possibility of using genetic information to better understand which treatments are most effective for each child and to develop better treatments in the future. This requires developing a better foundation of knowledge about genes, brain functions, specific symptoms and treatment outcomes," Schultz added. "We hope that this kind of gift will enable us not only to determine who is at greatest risk for an ASD, but also to be able to begin to develop personalized interventions based on more precise understanding of the different causes."
Gift part of Lurie Family Foundation's ongoing support for autism research at CHOP
This most recent donation brings the Lurie's total support of autism research at The Children's Hospital of Philadelphia to nearly $4.5 million. Earlier gifts totaling nearly $2 million facilitated the purchase of a neonatal biomagnetometer MEG system (also known as the "mini meg") that is the only one of its kind, providing noninvasive, 4-dimensional imaging of human brain function; and research examining how differences in electrical signaling in the brains of children with ASD may influence language impairment.
About the Center for Autism Research
The Center for Autism Research (CAR) is a collaborative effort between several dozen scientists across multiple departments at The Children's Hospital of Philadelphia. CAR's goals are to identify the causes of autism spectrum disorders (ASD) and to use that knowledge to develop more effective treatments. CAR conducts research studies for infants at risk for being diagnosed with ASD (due to having a sibling already diagnosed) as well as toddlers, school-aged children, and adults on the autism spectrum. Families receive comprehensive assessment reports and are compensated for their time. Typically developing children and adults are also needed for comparison purposes. For more information, visit the Center for Autism Research (CAR) website.
About the Center for Applied Genomics
The Center for Applied Genomics (CAG) is a specialized Center of Emphasis at the Children's Hospital of Philadelphia. Our aim is to discover the genetic causes of prevalent childhood diseases and translate findings into medical innovation. The Center is one of the world's largest genetics research programs, and the only center at a pediatric hospital to have large-scale access to high-throughput genotyping and sequencing technology. We currently have over 50 active disease projects, and have identified genetic causes for some of the most debilitating childhood diseases including autism, asthma, ADHD, diabetes, epilepsy, inflammatory bowel disease, obesity, schizophrenia, and pediatric cancer. CAG operates at the forefront of personalized genomics, and we are developing targeted treatments for these disorders based on an individual's genome. For more information, visit the Center or Applied Genomics (CAG) website.
About the Lurie Family Foundation
The Lurie Family Foundation was established by Christina Weiss Lurie and Jeffrey Lurie with an emphasis on health issues, especially in the areas of autism and cancer research. The Foundation also supports documentaries addressing global issues through Screen Pass Pictures, a documentary film company established by the Luries.