The Next Frontier of Care for VEO-IBD
Published on in GI Updates
Very early onset inflammatory bowel disease was virtually unheard of just a decade ago. Today, a variety of personalized therapies exist, and potential curative gene therapies are on the horizon.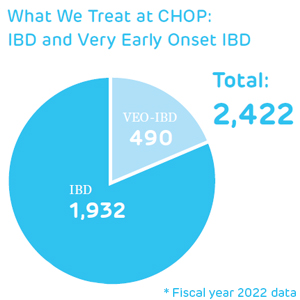 In the past decade, Children's Hospital of Philadelphia (CHOP) has led a whirlwind of discovery and innovation regarding a growing population of patients with very early onset inflammatory bowel disease (VEO-IBD). These patients — whose disease presents younger than age 6 — often have more complex and severe symptoms than their older counterparts with IBD; and often do not respond to traditional IBD treatments.
Epidemiological data show the incidence of VEO-IBD is rising rapidly across North America,1 consequently, we and others are working together to learn more about the disease, develop better diagnostic tools and identify the underlying causes, including genetic defects.
Because each child with VEO-IBD has a unique combination of genetics, immune response and environment as part of their disease, a personalized approach — both for the evaluation and therapy plan — is necessary.
Today, dedicated VEO-IBD programs are extremely rare. The program at Children's Hospital of Philadelphia is novel — with a comprehensive bench-to-bedside program dedicated to unlocking the mysteries of this rare genetic disorder and delivering customized, individualized treatments to patients and their families.
The evolution of a VEO-IBD program
Savannah, 6, VEO-IBD patient CHOP's VEO-IBD program launched in 2012, but we have been seeing young children with complex, multifactorial IBD even before VEO-IBD was recognized as its own distinct disorder in 2009.
Our program started with two dedicated clinicians – a gastroenterologist and immunologist – and two research scientists – a geneticist and a bioinformatician. The clinic was monthly with the goals of improving symptoms by effectively treating the disease and developing a better understanding of this cohort of patients with VEO-IBD.
Over the next few years, the VEO-IBD program quickly grew to include:
Evaluation of more than 300 patients a year
Weekly multidisciplinary clinic visits
An expanded clinical team that included rheumatology, diagnostic genomics, nutrition, nursing and more
The identification of medications to treat children with VEO-IBD that are not routinely used in IBD, such as canakinumab, ruxolitinib, sirolimus, tacrolimus and, in some cases, bone marrow transplant. In addition, the team learned to improve the use and efficacy of standard IBD therapies in young children, such as infliximab, vedolizumab, ustekinumab and others.
Today, our VEO-IBD Program includes more than 700 patients. We provide a full evaluation at the patient's first clinical visit, and as a translational team, collaborate with our research scientists, as well as families, to perform comprehensive immune and genetic testing. We then develop targeted treatments for patients with VEO-IBD.
Best practices for diagnosis
Twins Tommy ( left) and Leo, age 3, were diagnosed with VEO-IBD last year. Medication helped Tommy's disease go into remission, but Leo's treatment was more complex and required personalized treatment at CHOP. There is no one specific test to diagnose VEO-IBD. Clinical symptoms of the disorder can vary from child to child and frequently overlap with immune deficiencies and other rare diseases.
At CHOP, we use a variety of diagnostics to identify inflammation in the GI tract that are consistent with VEO-IBD, and to identify abnormalities in the immune system. We also use different forms of genetic sequencing to identify potential genetic causes of VEOIBD. These studies include:
Endoscopy and/or colonoscopy, with biopsies and video, as well as video capsule endoscopy
Lab tests, such as blood work and stool samples
Imaging studies, such as MRE, CTE and ultrasound
Genetic tests, such as CHOP's VEO-IBD genetic panel to test if a patient has a distinct gene or gene mutation known to cause VEO-IBD (NOTE: 5 of these genes were identified in the past year)
An important part of work up is the integration of the clinical studies with our research studies, including the different forms of genetic sequencing and how the gene is transcribed into proteins by looking at RNA or single cell RNA sequencing. We are also focused on the role of the environment and the gut microbiome in young children and how these changes impact the developing immune system.
Together, the information we obtain from the combination of the data help us identify underlying causes of the individual patient's disease. If identified, these defects and pathways can help us develop targeted therapies to not just improve the disruptive symptoms, but to ensure long lasting remission and, in some cases, cure the disease.
Current and future treatments
Diagnosed with very early onset IBD when he was 18 months old, Landen is now responding well to treatment and is thriving. Currently, one of the only definitive cures for VEO-IBD is a bone marrow transplant — but this remains rare. In the past 7 years at CHOP, we've performed 32 bone marrow transplants — less than 1% of our VEO-IBD population — on children with identified gene mutations that can be treated with transplant. These children have often suffered severe symptoms that did not respond to other therapies. With the dramatic improvements in genetic testing, we are now able to identify more mutations and earlier in the disease course, allowing for transplant to occur before complications arise.
A personalized treatment plan is developed for each child — those with and without an identified single gene mutation. All patients receive an integrated approach including medication, nutritional therapy and psychosocial support.
The VEO-IBD Program at CHOP is dedicated to providing one-of-a-kind comprehensive and targeted care to all our patients. Our team, which includes pediatric gastroenterologists, immunologists, rheumatologists, geneticists, surgeons, pathologists, dieticians, psychologists, and social workers with expertise in VEO-IBD, evaluates patients together all in one place. A nutrition plan is developed during clinic as part of the therapy plan. Patients and families also have the opportunity to meet with our social work/behavioral health team.
Finding the right medication or treatment combination — and knowing when adjustments are needed — requires advanced knowledge and a commitment to working with families of these especially vulnerable children. In some cases, identifying the causative gene of the disorder may help identify the most appropriate first-stage medication, but it is not always necessary for a successful patient outcome.
VEO-IBD research and knowledge is growing quickly. We are committed to finding solutions for each child with this disease – whether that's a gene therapy to cure the disease or a medication that sustains remission. Our research is dedicated to identifying the genetic, immunologic and microbiome underpinnings of VEO-IBD and how new individualized therapies can change its trajectory.
Our goal for the VEO-IBD Program remains the same as Day 1: To help children with VEO-IBD have a normal quality of life and to forget they have IBD. We're getting closer every day.
Judith R Kelsen, MD, is Program Director of the Very Early Onset Inflammatory Bowel Disease (VEO-IBD) Program and an Attending Physician in the Division of Gastroenterology, Hepatology and Nutrition at Children's Hospital of Philadelphia.
Reference
Kelsen JR, Sullivan KE, Rabizadeh S, Singh N, Snapper S, Elkadri A, Grossman AB. North American Society for Pediatric Gastroenterology, Hepatology and Nutrition Position Paper on the Evaluation and Management for Patients with Very Early-onset Inflammatory Bowel Disease. In J Pediatr Gastroenterol Nutr. 2020 Mar; 70(3):389-405 doi: 10.1097/MPG.0000000000002567.
---
Next Steps
Appointments and Referrals
---
You Might Also Like