Sleep Center's Team Approach Fosters Success When Surgery Can't Fix Obstructive Sleep Apnea
Published on
Children's Doctor
Case: I.V. is a 9-year-old boy with Down syndrome and asthma who presented to CHOP Otolaryngology with snoring, gasping, and restless sleep in 2016 after his family relocated from the West Coast. A diagnostic polysomnogram was performed at the CHOP Sleep Laboratory that demonstrated severe obstructive sleep apnea syndrome (OSAS), with nearly 30 obstructions per hour and oxygen desaturation into the 70s. I.V. subsequently underwent adenotonsillectomy and, although the surgery was successful, a repeat sleep study demonstrated persistent severe OSAS, and I.V. continued to have snoring and apnea.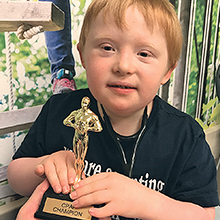 I.V. did so well with his CPAP to treat his OSAS, with helpful coaching from CHOP's Sleep Center staff, he earned a trophy. He was referred to the Sleep Center for additional treatment and was started on continuous positive airway pressure (CPAP). The Sleep Center's CPAP team worked with I.V. and his family to help him get used to his CPAP over the next several months, and a titration showed that his OSAS was well-controlled using CPAP. For his hard work, I.V. received a CPAP champion trophy in August 2017. I.V. continues to follow-up regularly with the Sleep Center, and through collaboration between the Sleep Center and I.V.'s family, he uses his CPAP every night and does not have snoring or apnea.
Discussion: OSAS is a disorder of breathing during sleep characterized by recurrent complete or partial upper airway obstructions, disrupting normal ventilation and causing sleep fragmentation. In children, OSAS has been associated with significant cardiometabolic and neurobehavioral morbidity. OSAS is common in children, with a prevalence of 1.2% to 5.7% of the general pediatric population. OSAS results from a combination of upper airway narrowing and sleep-related upper airway muscle hypotonia.
Children with Down syndrome are predisposed to OSAS due to craniofacial features, hypotonia, and obesity. There is a very high prevalence of OSAS in children with Down syndrome, even in patients where caregivers do not report symptoms. In children with Down syndrome and typically developing children, OSAS has been associated with significant cardiometabolic comorbidities, reduced quality of life, impaired cognitive function, and impaired growth. OSAS is associated with younger age of cognitive decline and may exacerbate Alzheimer's dementia in individuals without Down syndrome. However, OSAS treatment is associated with improved cognitive function. The American Academy of Pediatrics Health Supervision for Children with Down syndrome guidelines recommend evaluating for OSAS by age 4 years and screening for OSAS in younger children, with referral based on symptoms.
First-line treatment for pediatric OSAS includes adenotonsillectomy for many children who have enlarged tonsils and adenoids, but could include CPAP in those children who are not candidates for adenotonsillectomy or who have persistent OSAS after this surgery. This is a common scenario in children with Down syndrome, as was the case for I.V.
The CHOP Sleep Center features an interdisciplinary team with a great deal of experience managing OSAS and the full spectrum of medical and behavioral sleep disorders in children. The Sleep Center includes a multidisciplinary board-certified physician group (pediatrics, pediatric pulmonology, child neurology, psychiatry), 5 dedicated psychologists, as well as a dedicated nurses and respiratory therapists. The CPAP program cares for approximately 800 children with OSAS on CPAP, including many children with Down syndrome, and includes a dedicated nurse practitioner and coordinator.
The Sleep Center is complemented by CHOP's 14-bed pediatric sleep laboratory, which performs more than 3 500 diagnostic and titration sleep studies per year in children. The dedicated sleep technologists are highly experienced at working with children with Down syndrome as well as those with other medical and behavioral conditions.
The Sleep Center has long-standing relationships with the CHOP Trisomy 21 Program, as well as surgical colleagues in Otolaryngology and the Craniofacial Program.
The Sleep Center is a national leader in pediatric sleep research, with a program well-funded by the National Institutes of Health and other organizations. CHOP is a leader in Down syndrome research, and the Sleep Center currently leads multiple ongoing NIH-funded studies focused on improved evaluation and management of OSAS in children with Down syndrome. The Sleep Center is also actively involved in a number of quality improvement projects that have been presented nationally and published, including work with our CPAP program that has achieved excellent adherence to CPAP in children with Down syndrome.
This boxplot shows median, interquartile range, and minimum and maximum points of adherence to CPAP for children with OSA.
Through multiple training programs, the Sleep Center is dedicated to training the next generation of clinical and research leaders in pediatric sleep medicine.
The Sleep Center's highly experienced team works collaboratively with primary care physicians to ensure that all children, including those with Down syndrome, get the best possible care.
References and Suggested Readings
Marcus CL, Keens TG, Bautista DB, von Pechmann WS, Ward SL. Obstructive sleep apnea in children with Down syndrome. Pediatrics. 1991;88(1):132-139.
Konstantinopoulou S, Tapia IE, Kim JY, et al. Relationship between obstructive sleep apnea cardiac complications and sleepiness in children with Down syndrome. Sleep Med. 2016;17:18-24.
Bull MJ, Committee on G. Health supervision for children with Down syndrome. Pediatrics. 2011;128(2):393-406.
Marcus CL, Brooks LJ, Draper KA, Gozal D. Clinical practice guideline: diagnosis and management of childhood obstructive sleep apnea syndrome. Pediatrics. 2012;130(3):1-9.
Chamseddin BH, Johnson RF, Mitchell RB. Obstructive sleep apnea in children with Down syndrome: demographic, clinical, and polysomnographic features. Otolaryngol Head Neck Surg. 2019;160(1):150-157.
Waters KA, Castro C, Chawla J. The spectrum of obstructive sleep apnea in infants and children with Down Syndrome. Int J Pediatr Otorhinolaryngol. 2020;129:109763.
---
You Might Also Like