Division of Pulmonary and Sleep Medicine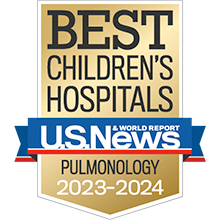 Whatever is causing your child's breathing challenges, the Division of Pulmonary and Sleep Medicine can provide you and your child with information, support and advanced treatment options. We offer inpatient and outpatient services for infants and children with both short-term and chronic respiratory problems.
Chronic Lung Disease: Leila's Story
Born at 26 weeks, Leila's lungs failed to develop. Specialty care during her CHOP stay and after helped her breathe on her own and her family cope.
View more
The Division of Pulmonary and Sleep Medicine is ranked among the best in the nation on U.S. News & World Report's prestigious 2023-24 Honor Roll of Best Children's Hospitals. We provide your child with access to experienced physicians, care that's tailored to children, and much more.
Our Programs and Services
Our patients receive comprehensive care from our physicians, certified nurse practitioners, nutritionists and social workers, all of whom are committed to providing outstanding patient care.