With a Philadelphia Free Library branch sharing the same building as CHOP's South Philadelphia primary care practice, nurse Vi Nguyen, MSN, RN, knew there had to be a way to help neighborhood kids stay healthy by creating synergy and building on both institutions' strengths.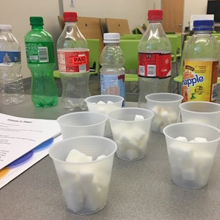 During the Sugar Shock lesson, kids learned how much sugar their favorite drinks contained. Working with the children's librarian, Link Ross, Nguyen landed on monthly education sessions, called Healthy Hangouts with CHOP, that taught children about healthy topics in a way that was engaging and fun.
"It wasn't a school-type lesson," Nguyen says. "We made it interactive so it was a fun environment — not like a teacher giving them a lecture."
In the midst of a game or art project, Nguyen definitely provided important health information in a way that kids could understand and use in the future.
Assist from Nursing Fellows
She coordinated with CHOP's Community Nurse Advocacy Fellowship (CNAF), which has been active around Philadelphia for 15 years, promoting child health in a variety of settings. Nguyen was able to piggyback off CNAF's vetted and tested education programs. "I didn't have to reinvent the wheel," she says. "These topics are proven winners with kids."
One favorite was the Sugar Shock lesson. Nguyen lined up several different types of beverages — soda, juice, water and energy sport drinks — and then put a stack of sugar cubes that reflected each one's sugar content next to it.
"That was a real eye-opener for them," she says. "We showed how to read the labels to pinpoint where the sugar may be hiding and taught them how to calculate how many sugar cubes that would be. They had never thought there was that much sugar in one bottle of soda."
Current and past CNAF fellows volunteered to help at the monthly events, so each child received plenty of attention.
Small gift, big payoff
With the help of funding from a CHOP Cares Community Grant, Nguyen was able to buy small giveaways that reinforced the lesson. After Sugar Shock, each kid received a reusable water bottle to encourage them to drink water instead of a sweetened beverage. She also made an info sheet on each topic for parents so they could continue the healthy conversations at home. Healthy Hangouts sessions occurred during regular elementary school homework help time when kids were already in the library. It had a drop-in format, so kids could stop by the activity table when it fit their families' schedule. Healthy Hangouts are just one of several collaborations between CHOP and the library branch. Staff from the primary care office have attended other children's story times, coordinating with Ross to prepare a relevant health or wellness lesson to go with the book or theme.
Social Worker Sarah Dziedzic, MSW, curated a group of wellness books in different languages that cover a wide variety of topics. The collection, which takes up a whole shelf, is promoted throughout the South Philadelphia Community Health and Literacy Center, built for the community by CHOP and the City of Philadelphia in 2016. The building also houses the Philadelphia Health Center 2 and the DiSilvestro Recreation Center and Playground.
"Everyone recognizes the opportunities to work together to help families," Nguyen says. "We have a great partnership."
---
You Might Also Like