Third Anniversary of the Garbose Special Delivery Unit
Published on in CHOP News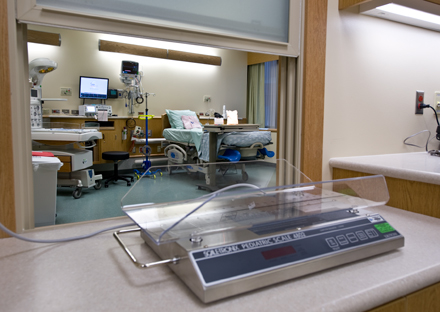 CHOP Celebrates Third Anniversary of the Garbose Special Delivery Unit
June 22, 2011 — This month marks the third anniversary of the opening of The Children's Hospital of Philadelphia's (CHOP) Garbose Family Special Delivery Unit, the world's first birth facility exclusively for mothers carrying babies with known birth defects like spina bifida and congenital diaphragmatic hernia. Babies diagnosed with these birth defects will either undergo fetal surgery to treat the condition before birth or need immediate specialized care after birth.
Since June of 2008, more than 750 babies have been delivered in the Special Delivery Unit, including babies from 32 states and 3 countries. The Unit is the delivery arm of CHOP's internationally recognized Center for Fetal Diagnosis and Treatment, which has been providing care for women expecting babies diagnosed with fetal defects for more than 16 years.
SDU offers specialized care to babies born with birth defects and their mothers in the same premier facility
"Approximately one in 33 babies each year is diagnosed with a birth defect, " said N. Scott Adzick, MD, surgeon-in chief and director of Children's Hospital's Center for Fetal Diagnosis and Treatment.
"Normally, these mothers will give birth in one hospital, and their newborn will be transferred to a specialized pediatric hospital shortly after delivery. The Garbose Family Special Delivery Unit changed that three years ago by allowing for mother and child to be immediately, and simultaneously, treated at one premier facility by a team with great experience and expertise," said Adzick.
The Special Delivery Unit was the first of its kind to exclusively care for babies born with a wide range of birth defects such as:
After delivery, the baby is treated immediately in the Harriet and Ronald Lassin Newborn/Infant Intensive Care Unit (N/IICU) or the Evelyn and Daniel M. Tabas Cardiac Intensive Care Unit (CICU), while the mother recovers nearby.
"Babies with special needs require special care both before and after birth — and so do their mothers," said Lori Howell, MS, RN, executive director of the Center for Fetal Diagnosis and Treatment. "With the addition of the Special Delivery Unit, for the first time we were able to offer mothers the option to actually deliver right here at CHOP. We can now provide comprehensive care for both baby and mom, without the separation that makes a challenging time even more difficult for families."
The eight-bed labor and delivery unit allows CHOP's experts in fetal medicine and surgery to provide seamless care from diagnosis, delivery and necessary interventions through postnatal follow-up.

"As the field of fetal surgery and therapy continues to advance, specifically in light of our recent developments in fetal surgery for spina bifida, we are treating more and more babies before they are born. The Special Delivery Unit is a very important part of the comprehensive care our Center for Fetal Diagnosis and Treatment is able to provide," said Dr. Adzick.
The SDU team
The unique unit is staffed by a highly specialized team of:
Obstetricians
Fetal surgeons
Anesthesiologists
Neonatologists
Cardiologists
Advanced practice nurses
OB and neonatal nurses
Genetic counselors
Child life specialists
Social workers.
Patients are followed by the team throughout the pregnancy, and it is the familiar members of the mother's prenatal care team who also deliver the baby.
Special Delivery Unit facilities and services
The Special Delivery Unit is an alliance between the Center for Fetal Diagnosis and Treatment and the Fetal Heart Program at CHOP. Within the Unit there is a resuscitation room, located adjacent to two of the inpatient rooms, where CHOP's neonatology staff can be waiting to care for a baby that might born in distress. There are also two operating rooms on the unit that are equipped for cesarean sections and fetal surgery. A third operating room is a hybrid that can be used by both the fetal surgery and cardiothoracic surgery teams.

Outpatient services are also housed on the Special Delivery Unit. Located directly across from the inpatient area, the outpatient area is staffed by a dedicated team of radiologists, ultrasound and echocardiography technicians, sonographers and nurses. When a family comes for an evaluation, they have a series of tests all in one single day — a level II ultrasound, an ultrafast fetal MRI and an echocardiogram. After the images are evaluated, the team sits down with the family to discuss the diagnosis and treatment options.

This was the first delivery unit at CHOP and the first special delivery unit in a children's hospital dedicated exclusively to mothers carrying babies with known birth defects.
About the Center for Fetal Diagnosis and Treatment at CHOP
The Center for Fetal Diagnosis and Treatment at The Children's Hospital of Philadelphia is an internationally recognized leader in fetal surgery and fetal care. One of the only programs of its kind in the world, it offers a comprehensive breadth of services, including fetal therapy, to support patients from prenatal evaluation through delivery, postnatal care, and long-term follow-up.
Established in 1995, the Center has welcomed more than 10,000 expectant parents and received referrals from all 50 states and more than 50 countries. Its multidisciplinary team brings decades of experience to the care and treatment of the fetus and the expectant mother. The Center has performed nearly 800 fetal surgeries, including complex open procedures for birth defects such as spina bifida; less invasive fetoscopic or ultrasound-guided surgeries for conditions such as twin-twin transfusion syndrome; and specialized coordinated delivery approaches for babies that require surgical intervention while still on maternal-placental life support (EXIT delivery).
Contact
Ashley Moore, The Children's Hospital of Philadelphia, 267-426-6071 or moorea1@email.chop.edu