A previously healthy 12-year-old boy presented to CHOP Urgent Care with fever and nonproductive cough. Past medical history was negative for asthma. On review of systems, parents reported intermittent fevers, self-limited nosebleeds, and facial rash. They denied weight loss, night sweats, dyspnea, wheezing, chest pain, GI symptoms, or joint pain.
On exam he was thin and ill appearing, but without acute distress. Vital signs were significant for fever and tachycardia with normal respiratory rate, blood pressure, and oxygen saturations. He was found to have an erythematous throat, "shotty" cervical chain adenopathy, and decreased breath sounds with left-sided rales and no wheeze. There was a palpable liver edge without splenomegaly.
Diagnosis was presumed community-acquired pneumonia and, based on his ill appearance, a chest X-ray was obtained to evaluate for possible complications such as effusion. The chest X-ray (see Figure 1) did reveal a left-sided pleural effusion in the context of a 16-cm anterior mediastinal mass. The patient was transported via CHOP Transport to the Main Campus Emergency Department for further evaluation. He was admitted and received a final diagnosis of Hodgkin's lymphoma.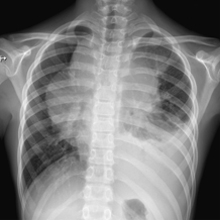 Figure 1: The initial X-ray taken at the Urgent Care Center showed left-sided pleural effusion in the context of a 16-cm anterior mediastinal mass.
Chemotherapy was initiated as an inpatient and completed as an outpatient. On his last CT scan (see Figure 2), the patient had "essential resolution of the previously seen mediastinal mass and supraclavicular adenopathy." At his most recent follow-up at the Oncology clinic at the CHOP Care Network King of Prussia Specialty Care Center, he was asymptomatic and playing on his travel baseball team. He will continue his protocol with radiation therapy and surveillance studies.
Figure 2: CT scans before and after chemotherapy
2A: This CT scan was taken during the patient's initial admission to The Children's Hospital of Philadelphia on March 29. 2B: CT scan from May 16 shows a decrease in the mass after 2 cycles of chemotherapy. 2C: CT scan from June 30 shows the mass resolved.
Discussion
Fever and/or cough are two of the most common chief complaints in any outpatient pediatric setting. In an otherwise healthy child, these symptoms are typically associated with a viral etiology best treated with parental reassurance and supportive care. Even the complaint of intermittent fevers in the absence of other historical concerns or physical exam findings can often be attributed to "back-to-back" viral illnesses. However, a detailed history and thorough physical exam may elicit red flags that lead to an expanded differential diagnosis including typical and atypical bacterial pathogens, autoimmune processes, cardiac pathology, or oncologic etiology.
In the above patient, fever and cough combined with the finding of rales lead to a presumptive diagnosis of community-acquired pneumonia. Based on recent guidelines published by the Infectious Diseases Society of America and summarized on the CHOP Emergency Department clinical pathways website, a patient who meets criteria for a diagnosis of mild pneumonia — a non-toxic patient over 3 months of age without increased work of breathing and pulse ox >90% — can be treated as an outpatient with high-dose amoxicillin and close follow-up without chest X-ray or blood work.
In the case of our patient, the combination of the recurrent fevers, nosebleeds, possible malar rash, generalized thin/ill appearance, tachycardia out of proportion to age and fever, and abnormal lung exam excluded him from the mild pathway and warranted further investigation, including an initial chest X-ray and consideration for inpatient treatment. The unexpected chest mass on X-ray prompted immediate transport.
The differential diagnosis for anterior mediastinal masses can be recalled with the "5Ts" mnemonic: Thymoma, Thyroid causes, Thoracic aorta origin, Teratoma and "Terrible" lymphoma. Chest masses may present signs and symptoms of generalized systemic symptoms (e.g., night sweats, weight loss, or fevers), superior vena cava syndrome, airway obstruction, cardiac tamponade, generalized lymphadenopathy, easy bleeding/bruising, or Horner's syndrome. Once the diagnosis of a chest mass is made, emphasis should be placed on prompt referral for diagnosis and initiation of treatment. A stable patient can rapidly deteriorate into respiratory distress or cardiovascular collapse with even seemingly innocuous stimuli such as recumbent positioning.
Definitive treatment of the chest mass is determined by the underlying diagnosis. Systemic steroids, however, can play a role at various points in treatment. In the event of rapid progression of cardiorespiratory or neurologic symptoms due to mass effect, steroids combined with radiation therapy may be used to alleviate the mass-effect symptoms. For oncologic diagnoses, steroids can be an integral chemotherapeutic agent in specific treatment protocols. In the case of a child pretreated with steroids for symptoms without definitive diagnoses, such as new-onset wheezing in an older child or severe pharyngitis in presumed EBV infection, the pretreatment may make diagnosis and/or adequate staging more difficult, result in steroid-resistant tumors, or alter potential treatment options that would otherwise be available to patients. These consequences can potentially negatively impact prognosis. Judicious use of steroids in the outpatient pediatric setting is prudent, and considering a chest X-ray prior to initiation of steroids may be warranted.
References and Suggested Readings
Pathway for Evaluation and Treatment of Child with Community-Acquired Pneumonia. Available at www.chop.edu/pathways/shared-pathways/pneumonia/. Accessed July 30, 2014.
Bradley JS, Byington CL, Shah SS, et al. The management of community-acquired pneumonia in infants and children older than 3 months of age: clinical practice guidelines by the Pediatric Infectious Diseases Society and the Infectious Diseases Society of America. Clin Infect Dis. 2011;53(7):e25-76.
Schwartz MW, ed. The 5-Minute Pediatric Consult. 6th ed. Philadelphia, PA: Lippincott Williams & Wilkins; 2012.532-533.
CHOP Urgent Care Center Information
The Children's Hospital of Philadelphia operates two Urgent Care Centers, one in the CHOP Care Network King of Prussia, Pennsylvania, Specialty Care Center and one in the CHOP Care Network Atlantic County Specialty Care Center in Mays Landing, New Jersey. Experienced pediatricians and pediatric nurses are always on site.
Both facilities have onsite labs and X-ray equipment and are open 365 days a year. No appointment required.