Published on
Many pediatric oncology patients at Children's Hospital of Philadelphia split time between outpatient clinic appointments and inpatient admissions. To help children through their treatment, yoga therapy is offered at our Voorhees and King of Prussia Specialty Care Centers and provides many of patients and their families with consistency of care, as well as a friendly face when coming to CHOP's Philadelphia hospital for admission.
Brynn is an active, happy and creative 5-year-old girl who was diagnosed with B-cell acute lymphoblastic leukemia (ALL) in the summer of 2021. Shortly after diagnosis, Brynn began receiving outpatient care in our King of Prussia Day Hospital and was introduced to the Integrative Health Program team. She began working with our yoga therapist, Tonia Kulp, MS, C-IAYT, in August and has been followed consistently both outpatient and during scheduled admissions.
"In our first session together, I recall Brynn being very focused on not wanting to disrupt her port site," Kulp says. "It is so common for kids to be afraid to stretch their arms or take deep breaths because of the fear they have around their new port. Brynn was also hesitant to try balance postures because she felt unsteady on her feet and was afraid of falling. Brynn was introduced to safe and accessible movement and, by the end of her first session, she was holding plank pose and showcasing her strength."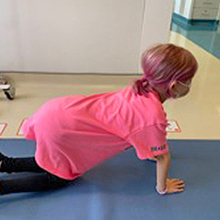 At a session with Kulp during one recent admission, Brynn was able to take a walk to "the bridge" for a mindfulness practice and then return to her room for a full yoga class. She has become especially good at standing postures like tree pose and warrior and has used affirmations to solidify her strength. "Brave Brynn" can be heard roaring like a lion and taking kickboxing breaks between poses, chanting, "I am brave, I am strong" throughout her practice.
Brynn's mom, Jess, reflected on Brynn's experience with yoga throughout her cancer journey. "Yoga has become a very important part of Brynn's treatment," Jess says. "She has learned her own strength, how to calm herself and how to work through anxieties. Most of all, it has given her something to look forward to."
---
Next Steps
Existing Patients or Family Members
New Patients, Referrals and 2nd Opinions