CHOP Cares Community Grants Awarded Fall 2016
The CHOP Cares Community Fund and Grants Program awards grants to CHOP employees to cover expenses for health-related projects that fulfill specific needs in one of the many communities CHOP serves. Read more about the CHOP Cares Community Grants awarded in the fall of 2016 and how they are impacting children and families in the community.
Nutritional Wellness for Children with Multiple Sclerosis and Other Demyelinating Disorders
Krystle Karoscik, MA, and Brenda Banwell, MD
Obesity is a risk determinant for adolescents with multiple sclerosis (MS). Obesity impacts immune function, as adipose tissue is a major reservoir for activated immune cells. Adipocytes are soluble proteins that have also been implicated in obesity and are emerging contributing factors to MS risk. Improving the nutrition of pediatric MS patients has the potential to favorably impact disease activity and health. Grant funds were used to create a cookbook featuring recipes for tasty, calorically balanced, vitamin D-rich foods.
Mitzvah Circle Provides Hygiene Products to Support Physical and Mental Health
Lynn Shesser, RN, MSN, MBA
Mitzvah Circle Foundation is a nonprofit organization that meets the needs of individuals and families struggling with crisis, poverty, homelessness and serious illness in the greater Philadelphia area and beyond. Through its Critical Needs and Diaper Bank, it distributes items such as toiletries, clothing, diapers, school supplies and kitchen goods. Grant funds were used to purchase supplies for the Critical Needs and Diaper Bank to be distributed to children and youth.
Thinking About Nutrition Initiative
Suzette Harper
In the low-income areas of the North Philadelphia neighborhood of Strawberry Mansion, major barriers exist that hinder many residents from eating healthy. The North Philly Project is a nonprofit, grassroots organization made up of community members who understand the challenges of growing up in North Philadelphia. Its Thinking About Nutrition Initiative provided the Strawberry Mansion community with nutritional information, education and support through biweekly activities at Cecil B. Moore Recreation Center. Grant funds were used to purchase supplies, printed materials and fresh food.
Gloucester Township Family Resource Center Outdoor Therapy Space
Brittany Schliep, MS
A CHOP Cares Community Grant paid for the materials for this gazebo in Gloucester Township, N.J. It will be a location for outdoor counseling sessions as part of the police department's Family Resource Center. The Gloucester Township, NJ, Police Department's Family Resource Center serves the community through counseling, career guidance and group activities for children and teens. This grant funded an outdoor garden gazebo therapy space to extend their group counseling space to the outdoors adjacent to the center. Grant funds were used to purchase materials for the gazebo. Local community members donated their labor to build it.
HIV Prevention Education
Diana Worsley, MPH
The Attic Youth Center is a nonprofit, LGBTQ youth center located in Center City Philadelphia. The Attic strives to create a safe and positive community in which LGBTQ youth can come and be themselves. Grant funds were used to purchase educational materials to promote rapid HIV testing in community settings.
Cellie: An Innovative Approach to Supporting Children with Eosinophilic Esophagitis
Alain Benitez, MD
Eosinophilic esophagitis (EoE) is a chronic allergic disease of unknown etiology that is becoming more common and affects children of all ages. Children with EoE undergo numerous interventional diagnostic and therapeutic procedures, as well as rigorous lifestyle modifications, as part of managing their disease. Grant funds were used to create the Cellie Coping Kit for EoE, including a stuffed toy to promote intervention engagement, coping cards and a book for parents.
Scholarship Program at Pegasus Therapeutic Riding Academy
Leigh Ann DiFusco, MSN, RN, PCNS-BC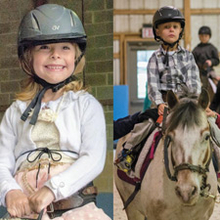 Pegasus Therapeutic Riding Academy Inc. has been providing therapeutic riding programs to children and adults with disabilities for 34 years. The program uses horses and their movement to enhance the quality of life for riders. Grant funds were used to provide scholarships to enable youth riders who might not be able to participate for financial reasons to be part of the therapeutic riding program.
Photo: Kylie, far left, and Dean benefit from the Pegasus Therapeutic Riding Program. Children with physical, developmental and intellectual disabilities are welcome at the facility in Northeast Philadelphia.
Helping Families Address Adolescents' Birth Control Needs
Aletha Y. Akers, MD, MPH, FACOG
CHOP families have repeatedly requested access to peer educators who can provide guidance about adolescent contraceptive use, particularly for families of adolescents with chronic medical problems or those in communities with high rates of teen pregnancy. To address this need, this project partnered with AccessMatters to conduct focus groups with parents and adolescents to help build a peer advisory program.
Asthma Class
Cindy Viscuse, RN, BSN, IBCLC, and Katelyn Young, CRNP
Asthma counts for a high proportion of triage calls, office visits and hospital transports for patients within the area served by the CHOP Care Network Newtown location. The goal of this initiative was to provide comprehensive education to patients and parents so they better understand their diagnosis and learn how to manage their asthma. The grant funded materials and refreshments for the asthma classes.
Grand View Health's Books for Babies
Education and literacy are key factors in determining outcomes of human development and have a direct impact on quality of life. Reading regularly with young babies stimulates optimal patterns of brain development and strengthens parent-child relationships. Grand View Health is a CHOP community hospital alliance partner serving Bucks and Montgomery counties. Staffed with partner physicians from CHOP, Grand View Hospital is one of the few remaining hospitals in the area providing maternity care and equipped with a Level II NICU. This project provided literacy bags to families of newborn patients who stayed in the NICU to encourage their parents to read to them. Grant funds were used to purchase books and bookmarks.
Teen Nutrition "Health Works" Program
Carol Hart, MSW
The Dreams of Tomorrow (DOT) Organization seeks to provide opportunities for at-risk children and youth to reach their full potential through academic and counseling services, social and recreational events, and providing resources. DOT's Teen Nutrition "Health Works" Program was designed to help overweight adolescents learn about the nutrition and exercise they need to maintain a healthy lifestyle. The ultimate goal is to help the teens reduce their risk of developing obesity-related health complications, such as diabetes and heart disease. This project created education sessions focused on sports/exercise, menu planning, personal development, life skills and self-esteem. Grant funds were used to purchase materials for the sessions.
Playworks Junior Coach Leadership Program
Playworks is a nonprofit organization that brings play into the lives of all children. Play has a critical role in early childhood development by helping children learn to self-regulate and control their behavior. Play also teaches them social and emotional skills. The Playworks Junior Coach Leadership Program offers a proactive student-driven approach to combating school violence through focusing on increasing self-confidence, leadership and conflict resolution skills in fourth- and fifth-grade students. Grant funds were used to fund the annual conference for Junior Coach Leaders.