CHOP Cares Community Grants Awarded Spring 2017
The CHOP Cares Community Fund and Grants Program awards grants to CHOP employees to cover expenses for health-related projects that fulfill specific needs in one of the many communities CHOP serves. Read more about the CHOP Cares Community Grants awarded in the spring of 2017 and how they are impacting children and families in the community.
Supporting Breastfeeding in Community Health Centers
Breastfeeding has immense benefits, including lower obesity rates in infants and their mothers. Many infants in Philadelphia whose mothers go to district health centers are not breastfed due to the lack of support from their families and communities. Low-income minorities are disproportionately affected and are more likely to have higher obesity rates. This grant funds Medela breast pumps and breastfeeding supplies at five Philadelphia Department of Public Health Centers for women who are uninsured and may not qualify for breastfeeding support. The pumps allow them to continue breastfeeding after returning to work.
Transportation Assistance Funding for Patterns Project
Sarah Ramos, LSW, MSW
The PATTERNS (Predictive Analytic Technology to Eliminate Repeat No Shows) is an initiative to decrease no-shows for scheduled medical appointments and increase patient access to care. This project helps identify patient families with a higher likelihood of missing their appointment and provides opportunities for them to get to their visits to receive appropriate care. Transportation is one of many barriers families face. Grant funds were used for gas cards, parking, SEPTA tokens and New Jersey Transit passes to reduce the cost burden of getting to outpatient appointments.
Thermometers for Families: Small Tools with a Big Impact
Linnea Phillips, BSN, RN, and Mary Fabio, MD
Purchasing a thermometer may not be financially realistic for many low-income families. As part of routine newborn health guidance, parents are counseled to check their baby's temperature if the infant feels hot, is not feeding well or is acting sick. They are told to call the office immediately if the infant has a temperature of 100.4 or higher. However, when asked, many parents disclose that they do not have a thermometer at home. This project seeks to bridge this financial gap by providing easy-to-use thermometers to each low-income newborn family as part of the standard initial newborn doctor visit.
Sickle Cell Disease Book for Children
Books help give young children with sickle cell disease, like Rhyan, 5, the tools to describe how they feel. Sickle cell disease (SCD) is the most common genetic disorder in African- American children. Understanding what SCD is, how it affects the body and what can be done to prevent pain episodes and other complications of SCD can begin as soon as a child can understand and describe how they feel. Using an illustrated children's book is one method to reach and teach young children. Grant funds were used to purchase books for children seen in CHOP's Comprehensive Sickle Cell Center.
Promoting Health & Safety for Refugee Children and Families in Lancaster
Sara Barton
Lancaster, PA, has a larger per capita refugee resettlement rate than Philadelphia and Pittsburgh. Most refugees settle in the Lancaster City School District. In 2015, the school district opened the Refugee Center and Community School to provide services for children and families, including English as a second language (ESL) classes, after-school activities, cultural orientation, job training and a health clinic. The grant funded health and safety welcome packs and bike helmets for refugee children.
Eat, Move, Live in Balance
Tracy Floyd, RN, BSN, CPN
BeautiFitStrong Camp for Girls is an eight-week summer day camp in West Philadelphia focused on health and wellness. The goal of the program is to introduce and engage girls in physical fitness, healthy eating and empowerment activities. Grant funds were used to purchase physical fitness equipment and healthy snacks.
Improving HPV Vaccination Compliance at Karabots
Leah Quinn, RN
Human papillomavirus (HPV) is the most frequently diagnosed sexually transmitted infection in the United States and is associated with the development of many cancers. Nationally, HPV vaccination is among the vaccinations with the poorest compliance rate. Only about 57 percent of females and 35 percent of males begin the vaccination series, with even fewer completing the series. This grant will fund incentives for male patients at CHOP's Nicholas and Athena Karabots Pediatric Care Center to complete the vaccination series.
Child Evangelism Fellowship
Vanessa Johnson, CTR
The Child Evangelism Fellowship of Pennsylvania Inc. Philadelphia County Chapter holds after-school classes for children. Grant funds were used to purchase hygiene supplies for children attending the after-school program.
Sensory Room Funding Project at Lea School
Children with autism spectrum disorders who attend Henry C. Lea School in West Philadelphia will be able to use the new sensory room. Renney Thomas
The Henry C. Lea School is a pre-K through eighth grade public school in West Philadelphia. The Lea School has four supplemental autistic support classrooms, providing support to 37 students. Grant funds were used to support a sensory room as part of the Autistic Support Program in order to offer the program to more students.
Niños Primeros en Salud Program Expansion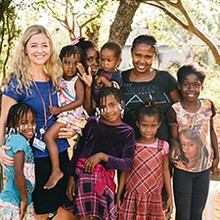 Adriana Deverlis, MPIA
In 2009, CHOP opened a flagship pediatric clinic, Niños Primeros en Salud (Kids First in Health), in Consuelo, Dominican Republic, a CHOP Global Health fellowship site. Niños Primeros offers free, evidence-based, comprehensive pediatric primary care and health education to the most vulnerable children under age 5 and their families in Consuelo. The program covers some of the poorest neighborhoods in Consuelo, serving approximately 500 children. This grant allowed the clinic's catchment area to be expanded to an additional neighborhood.
Photo: Global Heath fellow Maria Dunn, MD (far left), cares for children who come to Niños Primeros en Salud, a CHOP-sponsored clinic in Consuelo, Dominican Republic. The grant expanded the clinic's service area.
The First Voices Writer's Workshop
Tanya Tyler
The Lehigh Valley Inspirational Arts Foundation provides services to kids and teens in low-income areas of Allentown, Bethlehem and Easton, PA. The foundation teaches children how to tap into their imagination, spirit, passion and creativity and to create art that inspires their siblings, peers and community. Focus is placed on inspirational art as a counter to negative text, images and music. The foundation's First Voices Writer's Workshop consists of three sessions — writing, illustration and donation. At the end of the workshops, each child will have created a book that will be professionally printed. The completed books will be donated to CHOP's Reach Out and Read Program.
Therapeutic Art Programming for Parents Experiencing Homelessness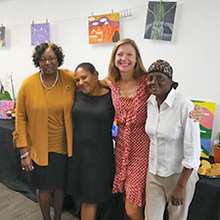 Melissa Bennett, MD
CHOP's Homeless Health Initiative's mission is to empower families to best care for their children and encourage their well-being and potential, to navigate health systems, and to reduce disparities. Over the last four years of offering art programming, program leaders have realized that increasing the ways they address biological, psychological and social needs of parents in shelters, increases the likelihood these goals will come to fruition. The benefits of art therapy among women and children experiencing homelessness have been well researched and documented. Grant funds were used to purchase art supplies to launch a new therapeutic art program at People's Emergency Center in West Philadelphia.
Photo: Art is used for enjoyment and therapeutic purposes during the Homeless Health Initiative's Friday Fun with Art sessions at People's Emergency Center. HHI Program Leader Karen Hudson, PhD, MSW, LSW, Dina Mitchell of PEC, and HHI Medical Adviser Melissa Bennett, MD, and PEC resident JoElla Menefee stand in front of residents' work.
Saving Grace Amazing Race
Nikka Mickle
Saving Grace is an organization in Camden, NJ, that helps support children and families through difficult times. It provides a safe haven, school supplies, food, counseling, mentoring and other support to families. This grant supported Saving Grace's community event "Amazing Race Acts of Kindness," where five teams were given clues to different parts of town, where they went to build community by cleaning the neighborhood, handing out health education materials and providing care packages to persons experiencing homelessness.
Karen Community of Philadelphia
Dai Lai Htoo
The Karen Community of Philadelphia seeks to support refugees from Burma and Thailand refugee camps and other immigrants from Burma who are making Philadelphia their home. Its center in South Philadelphia helps new, low-income refugees with limited English proficiency who face barriers to accessing healthcare. The grant funded health access, sexual and reproductive health information, and nutrition education into the community setting.
Students Run Philly Style
Christopher Renjilian, MD
Students Run Philly Style (SRPS) is a Philadelphia-based community youth development program that engages youth, many of whom are novice runners, in a progressive long-distance running program with the guidance of adult mentors and shared experience with peers. This project evaluated whether youth participation in SRPS was associated with decreased measures of risk and increased measures of resiliency against toxic stress. Grant funds were used for program incentives.
Living Wisely at Cornerstone/AED
The grant ensured staff at Cornerstone Christian Academy had access to automated external defibrillators, if they needed one. Kathryn Limmer, MD
Cornerstone Christian Academy is a K through eighth-grade school in the Kingsessing neighborhood in Southwest Philadelphia. The school is making great gains in addressing and improving the overall health of its students. Teachers and staff are trained in CPR/automated external defibrillator (AED) use, but the school had no AEDs. Grant funds purchased three AEDs for the school.