Post-transplant Revaccination Clinic
It is common for patients who have undergone blood or marrow transplant (BMT) to lose the immunity they had acquired through vaccinations. This loss is due to a variety of reasons including:
The patient's underlying disease for which transplant was warranted
The drugs and radiation used to prepare patients for transplant
The transplant itself
Immunosuppressive drugs taken after the transplant
It is important patients and families understand the need for revaccination to prevent infectious diseases. Revaccination after transplant is necessary to restore the protection from certain infectious diseases such as polio, measles, mumps, rubella and hepatitis B.
Revaccination requirements can be complex, and the vaccines need to be administered in a particular order, following a prescribed schedule to minimize risk of disease for these vulnerable patients.
Our clinical providers have found that relying on the patients' primary care team to administer these vaccinations is not always the most effective way to provide this post-transplant care. Most primary care practices see small numbers of post-BMT patients and are unfamiliar with a post-BMT revaccination schedule, as it is more concentrated than a routine vaccination schedule for new babies and children.
To better serve our patient population, the Cellular Therapy and Transplant Section (CTTS) at Children's Hospital of Philadelphia established the Post-transplant Revaccination Clinic.
What the Revaccination Clinic does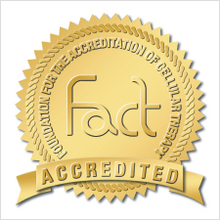 We offer patients the option to receive their vaccines in our BMT follow-up clinic, which is the first clinic of its kind in the country. Patients are revaccinated using the best practice standards developed by our BMT clinicians in consult with specialists in Immunology, Infectious Diseases and Pharmacy.
Revaccination Clinic hours and location
The Revaccination Clinic is open on the second and fourth Tuesday of every month, from 2 to 4 p.m. It is located on the third floor of the Buerger Center for Advanced Pediatric Care.
Who can use the Revaccination Clinic?
Any CHOP patient who has received BMT can receive revaccinations in the Clinic. Please contact 215-590-2820 to schedule an appointment.