Acute Lymphoblastic Leukemia: Donor-funded Research Helps Lizzy Dance Again
Published on
Lizzy has always been a high-energy kid. She loves to run and bike, and has danced ballet since she was 3. During summers, she would swim, kayak and paddle board the days away with her parents and younger sister, Georgia, at their shore house in Brigantine, N.J. At school, she'd often challenge boys to pushup contests, races and wrestling matches — and win.
"She's a passionate and lively kid," says her mother, Dawn, who is a sixth-grade teacher along with her husband, Bob. "She always had 120% energy and could run circles around other kids."
But in October 2018, Lizzy suddenly seemed lethargic, pale and thinner than normal. On Halloween, she complained that her legs hurt and was barely able to go trick-or-treating. A day later, she lost interest in eating. When she got light-headed and nearly passed out, her parents took her to a local emergency room to find out what was going on.
Bloodwork came back abnormal. Based on the results, the doctor thought it could be a virus. Or much worse, leukemia. Dawn stayed optimistic, but the news hit Rob harder. His cousin had died of leukemia at age 12.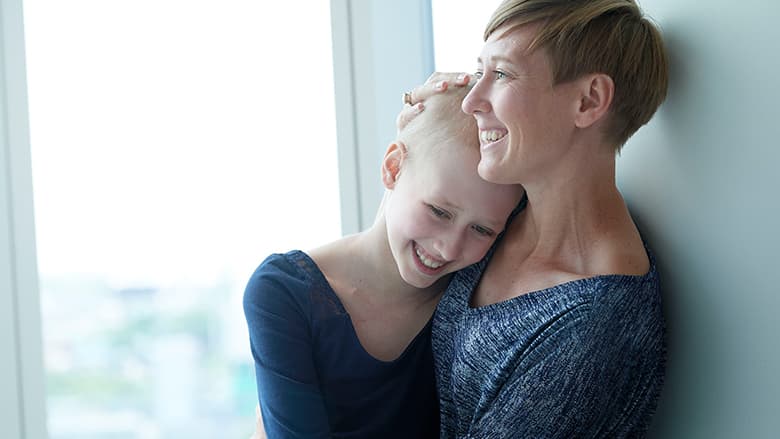 Discovery: Powered by You
Your support will help power the innovative research that will get kids like Lizzy better faster.
The doctor recommended the family go to Children's Hospital of Philadelphia (CHOP) for a full workup. In just a few hours, Bob's worst fear would be confirmed and their lives would be forever changed.
'Decide That She's a Survivor'
After running a full battery of tests, Stephen P. Hunger, MD, a nationally renowned specialist in childhood cancer and Chief of CHOP's Division of Oncology and Director of the Center for Childhood Cancer Research, delivered the news that Lizzy had acute lymphoblastic leukemia (ALL), the most common form of leukemia in children, accounting for about 30 percent of all pediatric cancer. There are about 3,000 cases of ALL in children and youth up to age 21 each year in the United States. The family was devastated.
"It was the hardest day of my life," says Bob.
But Dr. Hunger gave them hope.
"He said, 'I can't promise you that she will be cured, but we have a great chance of curing children with ALL. Right now, you need to make up your mind and decide that Lizzy is going to be a survivor and live longer than any of us in this room,'" recalls Dawn. "I think about that often. She's going to live longer than any of us, and she's a survivor."
ALL has one of the highest cure rates of all childhood cancers. Lizzy was admitted to CHOP and began treatment that day.
Affecting Her Body and Her Identity
As a 10-year-old girl who was used to looking at herself in the mirror a lot during ballet, Lizzy had a hard time watching her body change. She gained weight early on in treatment, then lost her hair. Her lifestyle also changed. She wasn't able to walk up the stairs and, at one point, even get out of bed.
"Her identity as athletic and strong was taken from her," says Dawn. "Not being able to be the physical, active kid she once was has been worse than losing her hair, because it is so much a part of who she is as a person."
Lizzy is treated primarily at CHOP's Specialty Care & Surgery Center in King of Prussia by a team led by Julie Stern, MD, and Tracey Jubelirer, MD. The team helps her stay positive by acknowledging the hard work she's doing in treatment. Lizzy takes pride in a 10-foot-long strand of multicolored beads, known as her Beads of Courage. Each bead symbolizes a milestone she's achieved or a time she's had to be really brave on her treatment journey.
She has a bead for each needle stick, every MRI, every sedation, every round of chemotherapy, every blood and platelet transfusion, every spinal tap, and when she lost her hair. She has a bead for each day she's spent in the hospital, usually because an abnormally low number of white blood cells made her prone to infection — a common side effect of cancer treatment. She was also hospitalized due to a toxic reaction to the chemotherapy injected into her spine and brain to destroy any leukemia hiding out there.
She brought her beads to school and used them to explain her condition and journey to her classmates in a way they could understand.
"It was a great visual for her classmates to see all she's been through and how many times she's had to be courageous," says Dawn.
Bouncing Back Better Every Time
Lizzy is now in remission. She still has a long way to go, with a few more months of weekly chemo followed by more than two years of monthly chemo. But with each round of treatment, she bounces back better than before. Her parents try to keep her — and themselves — focused on the positive and the future.
"We are so proud of her. She's everyone's hero," says Dawn. "All she's been through has been worth it because it worked. We have a deep sense of gratitude toward CHOP and all the doctors and nurses. We put our daughter's life in their hands."
If Lizzy stays in remission until age 16, she'll be considered cured of leukemia. Unlike most parents, Bob and Dawn often joke that when Lizzy turns 16 and can finally get her driver's license, all their worries will be over.
Dawn feels fortunate that Lizzy has ALL, a common disease with well-funded research. She says support for research is especially important for kids who have cancers that aren't as common.
"My daughter is going to have a normal life and it's because of a therapy that has been tried and tested, changed and perfected," says Dawn. "I want the parents of every kid we see on the onco floor to be able to say 95% of kids get through this. We need to continue to fund until all the cancers have a great outcome like ALL."