Creating Access to World-Class Orthopaedic Specialists for Kids Like Jackie
Published on
Ana Stutzman had not seen her family in Mexico for a year, and she was excited to visit them in December 2019 with her husband, Doug, and their 18-month-old daughter, Jacqueline. Unfortunately, during the trip, excitement turned to anxiety and confusion. "Jackie was just learning how to walk, and she was limping," says Ana. They got an appointment with a specialist, who diagnosed Jackie with hip dysplasia and said surgery was needed immediately. "Everything was going so fast," says Ana. "It was so alarming."
Hip dysplasia is the term for a hip socket that doesn't fully cover the ball portion of the thigh bone, causing the hip joint to become partially or completely dislocated. The Stutzmans decided not to make any rash decisions during their trip. When they returned to their home in Robesonia, Pa., Jackie's pediatrician referred the family to Children's Hospital of Philadelphia (CHOP).
At their first appointment, Ana and Doug found reassurance. They were seen by John M. Flynn, MD, Chief of the Division of Orthopaedics and a nationally recognized leader in the field of pediatric orthopaedic surgery, and Theresa C. McIntosh, MSN, CRNP, a nurse practitioner and advanced practice provider. "We had a whole list of questions," says Ana. "They answered everything for us. They explained to us what would happen."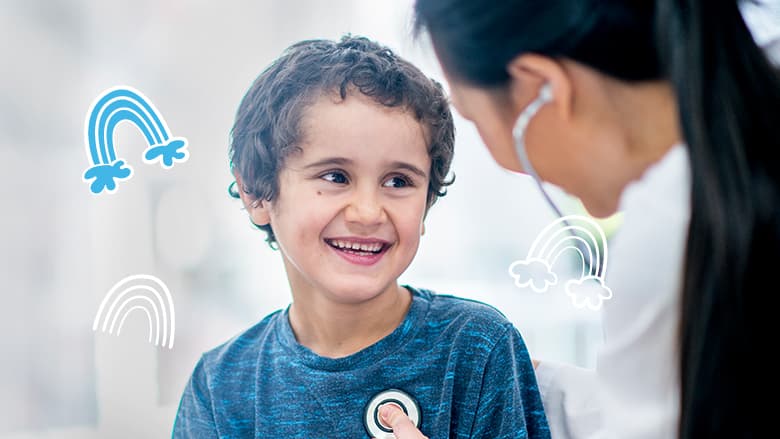 Nationally Ranked Pediatric Specialists
From orthopaedic surgery to ear tube placement, our new hospital in King of Prussia will bring expert pediatric care within easy reach.
On the day of the surgery, "Everyone was so nice and helpful," says Ana. Adds Doug: "They couldn't have treated us any better." Throughout everything, Jackie was a trooper, and her recovery went smoothly.
Every few months, Jackie needs to be seen by Dr. Flynn to check her progress, and the Stutzmans see how convenient CHOP's new hospital in King of Prussia will be. Robesonia is 70 miles northwest of Philadelphia, so they actually needed to drive through King of Prussia to get to CHOP's Philadelphia Campus on the day of the surgery. The King of Prussia hospital will give families like theirs easier access to CHOP's world-class experts from the Division of Orthopaedics, which was ranked the #1 pediatric orthopaedic program in the nation by U.S. News & World Report this year.
Now, seven months after Jackie's surgery, "She's walking and running," Ana reports. "You can't stop her!"
---
Next Steps
Appointments and Referrals