Division of Orthopaedics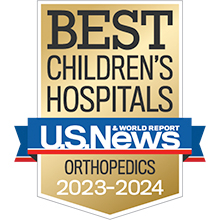 Kids are made to move. When injury or illness keeps a child from exploring their world, pediatric orthopaedic surgeons and doctors at Children's Hospital of Philadelphia are here to help. At Children's Hospital, broken bones are fixed so kids can get back on the playground. Ribcages are expanded so it's easier to breathe. Athletes are taught to train safely, reducing risk of injury. Limbs and joints are repaired so walking, running and throwing are possible. Our orthopaedic experts provide cutting-edge care so that your child can get back to being a kid.
CHOP Orthopaedics Named #1 in the Nation by U.S. News & World Report
U.S. News & World Report recognized CHOP's Division of Orthopaedics as the best in the nation for 2023-24.
View more
Consistently among the top-ranked pediatric orthopaedics programs in the nation, CHOP's Division of Orthopaedics is one of the largest and most active in the world. For 2023-24, CHOP Orthopaedics earned the No. 1 ranking in the nation on U.S. News & World Report's Honor Roll of Best Children's Hospitals.
Our Programs and Services
For every condition or injury affecting a child's bones, joints, muscles or tendons, there is an expert team at Children's Hospital that will work collaboratively to get your child the best possible outcome.
Our team of world-renowned orthopaedic surgeons, sports medicine physicians, nurse practitioners, physician assistants, and certified athletic trainers provide complete and individualized care for your child.
---
Next Steps
Appointments, Referrals and Video Visits
---
You Might Also Like