Spina Bifida: Ciarlo's Story
It was a hectic day when Kira learned she was pregnant with her second son. Her first son, Dominic, had accidentally locked himself in the bathroom of their new home. The roller-coaster ride would continue when the family learned their baby had a serious birth defect.
A 19-week ultrasound revealed that Ciarlo had spina bifida, a birth defect in which the spinal column doesn't close completely during development, leaving the spinal cord and surrounding nerves exposed through a hole in the back. The exposure to amniotic fluid in the womb causes progressive damage to the spine which can lead to a variety of issues, including bladder and bowel problems, club feet, paralysis, and weakness or loss of feeling below the location of the opening.
Kira and her husband Ken were shocked. Their obstetrician at Abington Hospital told them right away to go to Children's Hospital of Philadelphia (CHOP), which has extensive experience with prenatal diagnosis and treatment of spina bifida, including fetal surgery, as well as a specialized Spina Bifida Program.
"He didn't sugar coat it — he said it's going to be difficult, but he was positive and gave us hope," says Kira.
Treatment options
Kira and Ken traveled from their home about an hour away for a day of evaluation and advanced diagnostic testing at CHOP's Center for Fetal Diagnosis and Treatment. There, the multidisciplinary team, including fetal imaging specialists, a fetal surgeon, a neurosurgeon, a maternal-fetal medicine specialist and a nurse coordinator, gathered additional detail about Ciarlo's diagnosis.
Julie Moldenhauer, MD, Medical Director of the Garbose Family Special Delivery Unit and Director of Obstetrical Services for the center, was among the team members who sat down with the family to explain the diagnosis and treatment options. She walked through Ciarlo's test results in detail and explained what everything likely meant for his future.
Ciarlo's spine was exposed at the L1 level. The location of the lesion determines the extent of damage and problems expected in the future.
"She gave us a lot of hope, but not false hope, which is so important," recalls Kira. "She was honest and to the point. She made us feel this was not a death sentence, and that our son could have a great life — just a different life than what we might have expected."
For babies like Ciarlo with the most severe form of spina bifida, treatment options may include both prenatal closure and postnatal surgery shortly after birth.
At the time, the only way to receive prenatal repair was through a randomized controlled research trial initiated and funded by the Eunice Kennedy Shriver National Institute of Child Health and Human Development (NICHD). Ciarlo's parents wanted to make sure he had every option available, so they enrolled in the study. The courage of families like theirs played a critical role in establishing maternal-fetal surgery as a standard of care for spina bifida.
Ciarlo was randomized to undergo traditional postnatal surgery shortly after birth. A cesarean delivery was planned in CHOP's Garbose Family Special Delivery Unit (SDU). The SDU is the first birthing unit located within a children's hospital designed for healthy mothers carrying babies with known birth defects who will require immediate care after delivery.
Preparing for the unknown
In addition to preparing for the delivery, Ken and Kira had to plan for the hospital stay, Ciarlo's surgery, the travel back and forth to CHOP, and caring for 2-year-old Dominic.
While so much was unknown, the team at CHOP did everything they could to prepare the family for what to expect and answer all of their questions.
"We knew the treatment plan down to the smallest detail," says Ken. "It was comforting to know they were both in the best possible hands."
On Aug. 31, 2010, Ciarlo was born in the SDU.
"He came out screaming bloody murder, and I figured well, that's a good healthy cry, he's a fighter already," says Kira.
Ciarlo was taken right next door to an infant stabilization room. The SDU allows mother and baby to stay close while having immediate access to highly specialized care. After being stabilized, the team brought Ciarlo to Kira's bedside before taking him to the Harriet and Ronald Lassin Newborn/Infant Intensive Care Unit (N/IICU), just a short walk away.
Ongoing care
Less than 24 hours after Ciarlo was born, a pediatric neurosurgeon performed the delicate surgery to close the hole in his spine. The procedure went well and while he recovered in the N/IICU, Ciarlo began the next chapter of his journey to manage the complications the condition had caused in utero.
Like many patients with spina bifida, Ciarlo developed hindbrain herniation, where the hindbrain descends into the upper portion of the spinal canal in the neck, blocking the circulation of cerebrospinal fluid. This blockage causes hydrocephalus, an accumulation of fluid in the brain. Ciarlo has a shunt to relieve the pressure on his brain caused by the buildup of fluid, and walks with braces.
He is followed by CHOP's specialized Spina Bifida Program, where a multidisciplinary team, including pediatric urologists, neurosurgeons and orthopedic specialists, work together to provide coordinated care.
"The doctors and nurses are amazing. All his different specialists, they work as a team and care for him in a way that is above and beyond. They know his diagnosis and truly understand spina bifida and everything going on with him," says Ken.
Ciarlo has won the hearts of his medical team, but they've won his as well. He has his favorite nurses who he talks about all the time at home, and he loves his doctors.
"The Mayor"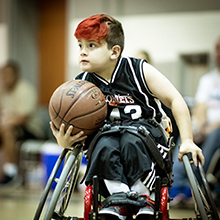 Now 9 years old, Ciarlo is energetic, intelligent and chatty. When he was younger, he was nicknamed "the Mayor" because he loves to talk to everybody and make friends.
These days, Ciarlo's great love is basketball. He loves playing for his wheelchair basketball team, Katie's Komets, and going to professional games to cheer on all the Philadelphia sports teams. When he grows up, he wants to be a professional wheelchair basketball player and a child life specialist. Other than basketball, his favorite parts of the week are youth group at church, and anytime at school when he gets to be active and social: gym class, recess and lunch!
Ciarlo is busy off the court, too. In 2019, he was a national representative for Children's Miracle Network.
Ciarlo loves his friends and family fiercely. Dominic lost his battle with cancer a few years ago, and he will always very much be a part of Ciarlo's identity. He talks about him and heaven every day.
When his parents think about his future, they imagine an independent boy who conquers anything that holds him back and does what makes him happy. They see him achieving big things, maybe just going about it in a different way than others.
Watch the video to meet Ciarlo and his family.
Originally posted September 2015
Updated October 2019
---
Next Steps
Appointments and Referrals (800-IN UTERO)