About the Division of Neonatology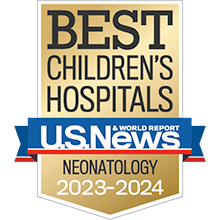 Each year, more than 4,000 babies across our network receive comprehensive, high-quality care through CHOP's Division of Neonatology. We treat infants who have a multitude of complex conditions and diseases, from pulmonary, cardiac and gastrointestinal problems to health problems related to birth defects.
The division provides care for critically ill newborns and infants in the Harriet and Ronald Lassin Newborn/Infant Intensive Care Unit (N/IICU) at Children's Hospital's Main Campus, as well as through our specialized programs. Our neonatologists also work at hospitals across the CHOP Care Network. This partnership gives families access to excellent neonatal services in every part of the Delaware Valley. Our extensive network also allows closer collaboration with referring physicians on their patients' care.
Neonatal care team
In addition to board-certified attending neonatologists, we have a broad, experienced newborn care team that includes nurses, neonatal nurse practitioners, physician assistants, respiratory care practitioners, psychologists, social workers, dietitians, child life specialists, lactation consultants, and one of the largest groups of neonatal and pediatric ECMO specialists in the country.
This team works with your child's pediatrician and other specialty care physicians to ensure a continuity of care and clear communication. We all share the same goal: to help your baby function to his fullest potential.
Translating research into therapy
CHOP's Division of Neonatology provides patients and families access to the most advanced research and innovative, successful treatments for critically ill newborns. As we make scientific advances in neonatal care through our numerous laboratory and clinical research activities, we move them quickly into clinical therapies.