Food Pharmacy
One in five people in Philadelphia experience food insecurity, which means they don't consistently have access to enough food for an active and healthy lifestyle. Without a healthy diet, children's overall health and development is at risk.
As part of care provided by the Healthy Weight Program, all patient families are asked about food insecurity at every visit. If you need food, you are not alone — and the Food Pharmacy can help.
The Food Pharmacy aims to increase access to healthy foods and promote nutrition for families experiencing food insecurity.
How it works
At each visit to the Food Pharmacy Program, every family responds electronically to two statements about food insecurity:
Within the last 12 months, we worried whether food would run out before we got money to buy more.
Within the last 12 months, the food we bought just didn't last and we didn't have money to buy more.
If a family is found to be experiencing food insecurity, it is referred to the Food Pharmacy, located within the HWP Clinic at 3550 Market St.
Distribution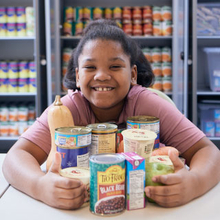 The Food Pharmacy will provide referred families with a three-day supply of healthy food that includes:
Fruits
Vegetables
Grains
Proteins
Dairy
The quantity of food depends on the size of the family.
Families will be able to access the Food Pharmacy once a month while part of the program.
As part of the Food Pharmacy program, families work with a multidisciplinary team of providers to learn about how to make healthy lifestyle changes.
Accessing other help
The Food Pharmacy Program resource navigator will also meet with each family to discuss their particular circumstances, address their food needs and connect families to benefit programs and community resources.
Additional resources can include:
Enrollment in benefit programs, like Supplemental Nutrition Assistance Program (SNAP) and Women, Infants, and Children (WIC)
Local food pantries
Community food resources
Other social services
More Images of the Food Pharmacy
1 of 1