About the Spine Program
The Spine Program at Children's Hospital of Philadelphia (CHOP) is one of the largest multidisciplinary programs in the world dedicated to the diagnosis and treatment of pediatric spine conditions.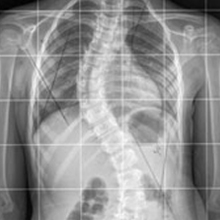 CHOP's Spine Program provides comprehensive evaluation and treatment to thousands of babies, children and teens with spinal deformities, trauma-related spinal conditions, genetic cervical spine conditions and other conditions that affect the spine. We offer surgical and non-surgical options to treat pediatric spine conditions, ensuring your child gets the most effective, but least invasive treatment possible.
We know that it's important to explore all non-surgical options when it comes to treatment for your child's spinal condition. That's why we focus on non-invasive treatment options first whenever possible, including bracing and special physical therapy programs.
Integrated care to provide the best outcomes
The Spine Disorders Program provides complete care for children with a wide range of spine deformities.
We offer:
A full spectrum of diagnostic testing including new technologies (i.e. EOS imaging, dynamic MRI, cartilage mapping) and standard technologies (X-rays, MRI, CT scans)
Expertise and resources in every pediatric subspecialty including orthopedics, oncology, genetics, radiology, pulmonology and others.
Surgical and non-surgical treatments based on your child's specific condition and needs.
State-of-the-art operating rooms that utilize cutting-edge navigation and imaging equipment during surgery, such as StealthStation® and O-arm® Surgical Imaging.
Continuous anesthesia and surgical monitoring during surgery, including specialized spinal cord monitoring.
Enhanced safety protocols before, during and after surgery to decrease the risk of infection and increase positive outcomes. These include giving patients perioperative antibiotics and implementing postoperative clinical pathways to ensure quality and standardization of care processes.
A pediatric rehabilitation hospital at CHOP's Main Campus that offers inpatient and outpatient therapies for orthopaedic patients including physical therapy, occupational therapy, athletic training and sports nutrition.
Access to the National Orthotics and Prosthetics Company (NOPCO) and East Coast Orthotics at the CHOP Specialty Care and Surgery Center in Princeton, NJ. These companies create custom-designed back braces, halo vests and other bracing devices at the request of CHOP physicians. The braces are designed to immobilize or reposition your child's spine, reducing pressure on the back and potentially eliminating or delaying the need for surgical intervention.
Multiple service locations through CHOP's Care Network for patient examinations, testing and certain treatments.
Long-term follow-up care is available at CHOP's Main Campus and seven other CHOP-affiliated locations in Pennsylvania and New Jersey. Transition-to-adult-care programs are available for children who need continued medical monitoring into adulthood.
---
Next Steps
Appointments and Referrals
---
You Might Also Like