Apert Syndrome
What is Apert Syndrome?
Apert syndrome, also called acrocephalosyndactyly, is a genetic disease in which the seams between the skull bones close earlier than normal during prenatal development, affecting the shape of the head and face. It is a form of syndromic craniosynostosis.
Individuals with Apert syndrome typically have a flat, elongated forehead, prominent or bulging eyes due to shallow orbits (eye sockets), recession or underdevelopment of the midface (maxillary hypoplasia), and syndactyly or fusion of the digits.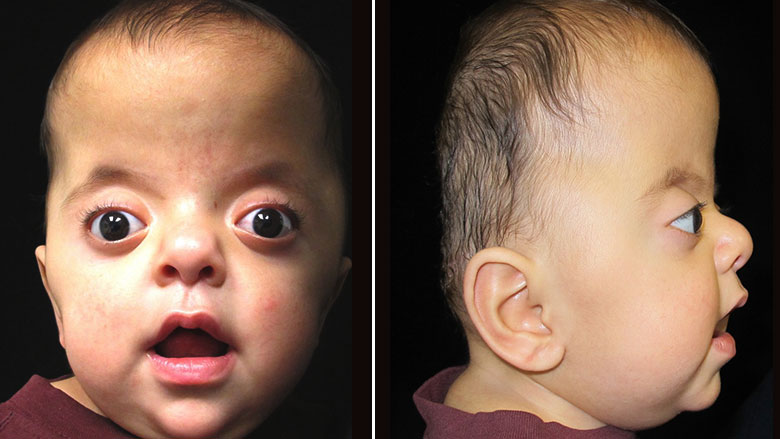 6-month-old male with Apert syndrome. Note tall shape and characteristic flatness of the back of the head. Eyes that appear wide set and have a bulging appearance are also a characteristic of this syndrome.
Apert syndrome complications
Patients with Apert syndrome can have related health and developmental issues, reinforcing the need for coordinated, multidisciplinary care and access to a variety of pediatric subspecialists.
The characteristic feature that distinguishes Apert syndrome from other types of syndromic craniosynostosis is the presence of hand anomalies, most commonly fused or webbed fingers (syndactyly). These hand deformities can be quite severe and prevent your child from functioning normally.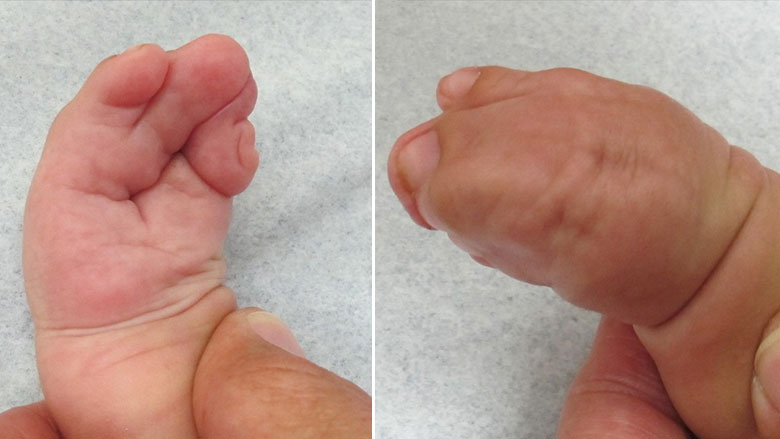 Complex syndactyly, when fingers are webbed together, benefit from specialty surgical care to release and result in the greatest degree of function that can be achieved.
In addition, Apert Syndrome can be associated with hydrocephalus, sleep apnea, eye exposure issues when the eyelids can't close completely and airway compromise that may require tracheostomy.
Patients with Apert syndrome may have associated intellectual or developmental disabilities. Specific cognitive deficits that may impact children with craniosynostosis include impairments in domains such as visuospatial functioning, executive functioning, attention, memory, or general developmental delay.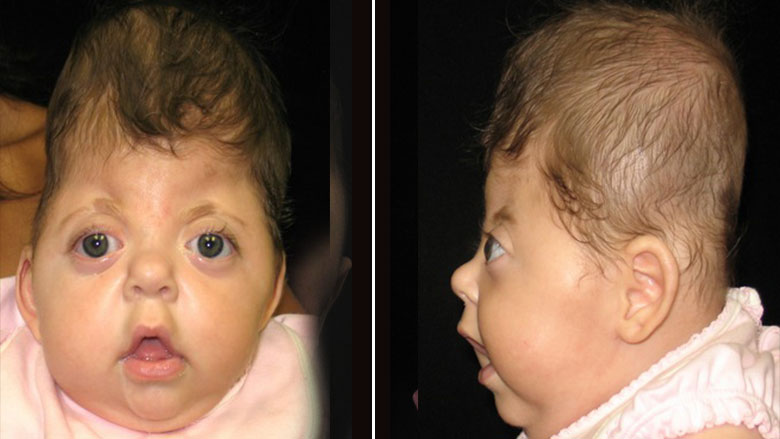 4-month-old female with Apert syndrome. Note the retruded brow and flattened forehead as well as sunken appearance of the face from the middle of the eyes to the upper jaw.
Treatment
The treatment of Apert syndrome is dependent upon both functional and appearance-related needs, and should be addressed immediately after your child is born. Because of the complex issues that can be associated with Apert syndrome, your child should be treated at a medical center where she will have access to pediatric specialists across the many clinical areas she may need.
At Children's Hospital of Philadelphia, coordinated care of patients with Apert syndrome is typically managed through the Craniofacial Program. At CHOP, our experienced Craniofacial Surgeons will help guide your child through craniosynostosis repair and other surgeries to address symptoms related to airway, dental/jaw relationships and craniofacial relations. Referral to a specialized hand surgeon with expertise in treating and repairing hand deformities is an important element of care for children with Apert syndrome. The Hand and Arm Disorders Program at CHOP is the region's largest multidisciplinary center treating children with congenital deformities of the hand.
Children with Apert Syndrome benefit from routine psychosocial support to address any behavioral, developmental, academic, emotional or social difficulties associated with their condition, appearance differences, and surgical treatments throughout childhood.
Additionally, our Craniofacial Team maintains close collaboration with Genetics, Ophthalmology, Speech, Otolaryngology (ENT), Audiology and Neurosurgery to help provide comprehensive craniofacial care.
Families also benefit from specialized programs such as CHOP's Center for Pediatric Airway Disorders and the Division of Pulmonary Medicine to address breathing issues, as well as the Pediatric Feeding and Swallowing Center to manage feeding issues.
Watch our educational video to learn more about the services and treatment options CHOP offers to children with craniofacial conditions such as Apert syndrome.
Reviewed by Scott P. Bartlett, MD, Jesse A. Taylor, MD