Protruding Ears
What are protruding ears?
Ears that stick out more than 2 cm from the side of the head are considered to be prominent or protruding. Protruding ears don't cause any functional problems such as hearing loss.
In most people, protruding or prominent ears are caused by an underdeveloped antihelical fold. When the antihelical fold does not form correctly, it causes the helix (the outer rim of the ear) to stick out (see a diagram of a normal external ear).
Most people with protruding ears also have a deep concha, the bowl-shaped space just outside the opening of the ear canal, which pushes the entire ear away from the side of the head.
Treatment
There are both non-surgical and surgical options for treating protruding ears.
Non-surgical ear molding
If a protruding ear is discovered in the first few weeks after birth, ear molding may correct this deformity and avoid the need for surgery. Infants' ears are soft and flexible, which makes them responsive to a non-surgical molding device.
Otoplasty surgery
Surgery to correct protruding ears is called a setback otoplasty. It can be performed as early as 5 to 6 years of age when ears are almost fully grown.
The procedure to correct protruding ears is usually performed through an incision behind the ears. The cartilage is reshaped to create an antihelical fold. This will support the ear in its new position closer to the head. Sometimes, additional sutures are placed on the back of the conchal to bring the entire ear closer to the side of the head. A postoperative dressing is used to help keep the ears in their new positions. This dressing will typically stay in place for 1 to 2 weeks. Although a general anesthetic is needed, the operation is done on an outpatient basis and your child will be able to return home the same day.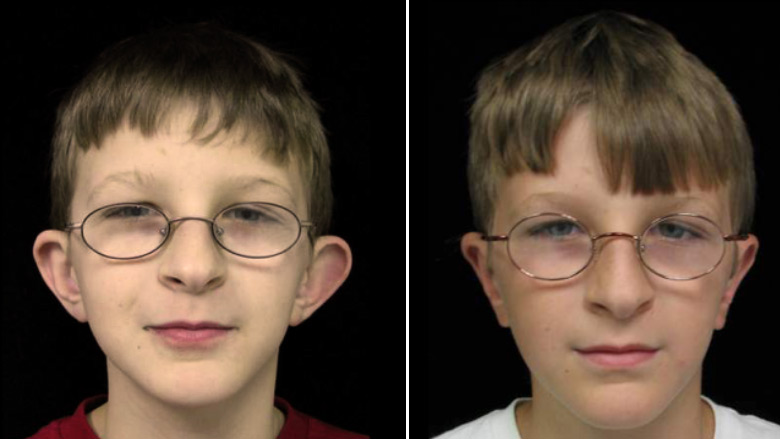 Example of bilateral protruding ear deformity.
Insurance companies often consider otoplasty to be a cosmetic operation, and therefore they may not cover the cost of this procedure. If you have questions about insurance, your CHOP care team is here to assist and answer any questions you may have.
Reviewed by David W. Low, MD