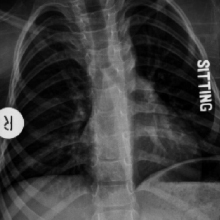 Figure 1 MR is a 4-year-old child with spinal muscular atrophy type 2 (SMA-2) who presented to the Center for Thoracic Insufficiency Syndrome for a multidisciplinary assessment and was evaluated by a pulmonologist, Oscar Mayer, MD, and an orthopaedic surgeon, the late Robert Campbell, MD. At the time, MR was unable to perform pulmonary function testing (PFT) for forced vital capacity (FVC) or respiratory muscle strength measurements. He had no history suggestive of inadequate airway clearance or chronic respiratory failure. The orthopaedic assessment noted that he was nonambulatory and was able to maintain an upright posture in his wheelchair without assistance. He had no scoliosis, but did have subtle bilateral caudal rotation of his superior ribs that was clear on anteroposterior chest radiograph (Figure 1).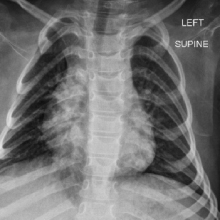 Figure 2 On his first follow-up visit at 5 years of age, MR continued to have no signs of either inadequate airway clearance or respiratory failure. He was able to produce usable PFTs with a moderately low FVC of 58 percent predicted. On orthopaedic assessment he had clear bilateral superior rib cage decline with the superior rib cage more narrow than the abdominal rib cage. This was again evident on chest radiograph, but there was no scoliosis (Figure 2).
Figures 3a and 3b By 6 years of age, MR's FVC had declined further. He still had no respiratory difficulty, but his ribs continued to rotate downward and his superior chest became more narrow, and he started to develop a kyphosis and difficulty staying fully upright in his wheelchair (Figures 3a and 3b). MR then underwent a dynamic MRI assessment that showed preservation of chest wall motion bilaterally. Because of the down-sloping ribs, Dr. Campbell recommended surgical intervention with the vertical expandable prosthetic titanium rib (VEPTR) with a novel modification using a lateral rod (outrigger) to elevate the down-sloping superior ribs. MR's parents felt that because the chest wall motion was still normal and there were no respiratory symptoms that there was no reason to intervene, but agreed to re-evaluate in six months.
Figures 4a and 4b Six months later there was a small decline in MR's FVC and he still had no respiratory difficulty. However, the chest radiograph showed continued downward rotation of the rib cage, mild scoliosis and worsening kyphosis (Figures 4a and 4b) and the dynamic MRI showed decreased chest wall motion. The parents then agreed to move forward with bilateral VEPTR insertion with lateral rods to support the downward-sloping ribs, or the VEPTR Gantry procedure.
Figures 5a and 5b Immediately after surgery the skeletal repair was substantial with stabilization of the spine and elevation of the superior rib cage and reduction in kyphosis (Figures 5a and 5b). While there was no improvement in FVC, there was an improvement in chest wall motion based on the dynamic MRI.
Over the intervening six years, up to 14 years of age, MR had expansions of his VEPTR every six months as is standard to support normal spinal growth. His chest wall motion declined slightly over time and he developed mild scoliosis and with it spinal rotation and some rib cage decline in the concave side of the chest (Figure 6).
Figures 6 and 7 While the ultimate skeletal repair is clearly better than natural history (Figure 7) and the more traditional spine-only approach, through this time MR had no hospital admissions for respiratory difficulty. More impressive still was the fact that based on annual polysomnogram evaluations, MR had normal ventilation and oxygenation at night, which is exceptionally rare for a patient with SMA-2 in this age range.
This case demonstrates how using novel ideas in evaluation (dynamic MRI) to accurately assess function and a novel treatment approach (VEPTR Gantry) can dramatically change clinical outcomes in patients with complex chronic disease and can alter expectations and disease progression.
Subscribe to Orthopaedics Update e-newsletter
Healthcare professionals are invited to subscribe to Orthopaedics Update. Stay up to date on our clinical services, research, educational opportunities and more.
---
Next Steps
Appointments and Referrals
---
You Might Also Like