UPJ Obstruction and Kidney Stones: Will's Story
William is a happy 8-year-old who loves football, baseball, soccer and basketball. He's well aware of his "lazy kidney," as he calls it.
Before Will was born, his mom Donna and her husband, Robert, were told during a routine prenatal ultrasound that their baby had hydronephrosis, which means that the area of the kidney where urine is collected is enlarged or dilated. A few months after birth, an imaging study at a local hospital confirmed the diagnosis.
Will exploring the DaVinci Robot, like the one used in his surgery, at a local mall.
William had no symptoms after birth but the hydronephrosis was monitored regularly during the first three years. Donna and Robert were told that Will's hydronephrosis might improve or resolve on its own, over time.
Unfortunately, it did not.
When Will was 3 years old, a urologist at a local hospital determined that Will's hydronephrosis was caused by a ureteropelvic junction (UPJ) obstruction. The ureteropelvic junction is located where the pelvis of the kidney meets the ureter (the tube that drains urine into the bladder). The UPJ obstruction impedes the flow of urine down to the bladder, causing the urine to back up in the kidney and dilate it (hydronephrosis).
William would need a surgery in the near future to treat his UPJ obstruction and reduce the hydronephrosis.
Choosing CHOP to treat Will's UPJ obstruction
Donna and Robert knew where they wanted to have Will's surgery to treat the UPJ obstruction: The Children's Hospital of Philadelphia (CHOP), with one of the best pediatric urology care teams in the nation.
Donna and Robert brought Will to the Division of Urology at CHOP, where they immediately felt they were in the best hands. The team made sure Donna and Robert understood the diagnosis, and they explained every step of the treatment process.
"They talked directly to Will, always using terms that Will would understand," says Donna.
Surgery to treat the UPJ obstruction
At 4 years of age, William had his first surgery at CHOP, a robotic-assisted laparoscopic pyeloplasty to improve drainage of urine from the kidney. In laparoscopic surgery, doctors make very small incisions and use tiny instruments controlled from outside of the body. Patients have less post-operative pain, a shorter hospital stay and a more rapid recovery.
During the surgery, Donna remembers how attentive Will's medical team was. "They always kept us informed of the progress," says Donna, which helped her and Robert feel confident that Will was in good hands.
Will was discharged within 24 hours after surgery. He went back to CHOP for a follow-up appointment to remove the uretral stent that was placed during surgery, and for an ultrasound to assess the dilation. The obstruction was successfully treated, but William's kidney was still dilated after surgery, which is common in 70 percent of patients with UPJ.
Experience with kidney stones
In December 2008, when Will was 5, he experienced an onset of severe pain and started vomiting. He was admitted to a local hospital. After numerous lab tests and imaging studies, the doctors could not pinpoint the cause of the pain. The imaging studies were then sent to the urology team at CHOP who made the diagnosis: A kidney stone, which Will had already passed. There is a 27 percent chance of developing a kidney stone after a pyeloplasty surgery. The cause of kidney stones after pyeloplasty is unknown.
Donna, Robert and Will made what had become an all-too-familiar trip to CHOP. The urology team ordered a 24-hour urine collection and an ultrasound to make sure the stone had passed and there were no other stones.
Kidney stones — a recurrence
In July 2011, pain started suddenly and again William started vomiting. This time, Donna and Robert knew what it was — another kidney stone. They drove to CHOP's Emergency Department.
Prior to arriving, Donna spoke to one of the on-call urologists and explained Will's condition. The moment they walked in, a team was ready to take Will. The ED doctor had already reviewed Will's chart and knew his medical history. An ultrasound revealed a kidney stone embedded in the ureter.
At 8 a.m. the following day, Will underwent a ureteroscopy, a minimally invasive surgery that enables surgeons to operate on very precise areas of the body. Will spent two nights in the Hospital. The staff took excellent care of him and his favorite stuffed penguin, Scamper.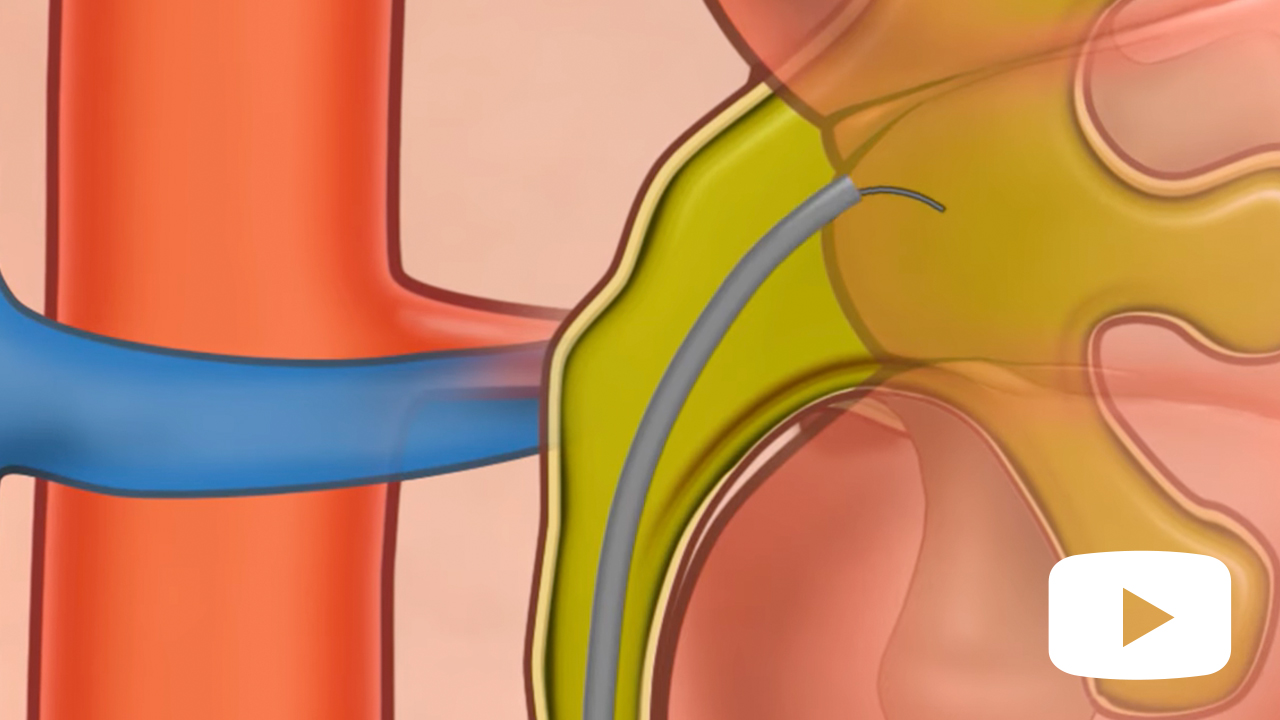 Ureteroscopy for Kidney Stones in Children
Children's Hospital of Philadelphia's Pediatric Kidney Stone Center offers ureteroscopy to remove kidney stones.
A strong will
Today, "Will is doing great," says Donna. The family traveled back to CHOP in September for another ultrasound.
"There were no signs of any kidney stones, the hydronephrosis looked better and the results of the 24-hour urine collection were good," she adds.
Will's older brother, Jake, often goes with him to his visits to CHOP, where they both enjoy sightseeing after Will meets with his medical team.
Will jokes about his kidney, calling it his "lazy kidney," and if someone mentions the word "kidney," he says "I know where that is!"
Reducing the chance of another kidney stone
Though Will's kidney stones were not due to his diet, but instead to hydronephrosis caused by a UPJ obstruction, he is not allowed to drink soda. But Will doesn't mind missing out on soda; it's his favorite drink — chocolate milk — that he really misses. Chocolate milk has oxalates, which increase the chances of developing kidney stones.
Will has no other restrictions. He enjoys his favorite sports, including baseball, soccer, basketball and flag football.
Will's teachers are supportive and allow him to bring water bottles to the classroom to stay hydrated. Proper hydration helps prevent urine from becoming concentrated with crystals, which can lead to stone formation.
Hope for the future
William will be followed regularly by the Division of Urology at CHOP where a team of doctors is actively engaged in studies on kidney stones disease.
Will is scheduled for regular appointments with Kerry Ashcroft, MSN, CPNP, a nurse practitioner with the Stone Center in the Division of Urology. The Pediatric Stone Center is a cutting-edge center providing multidisciplinary evaluations and management exclusively for children with stones.
Donna is very happy with the "wonderful service" her family — and Scamper — receives while at CHOP.

Originally posted: November 2011
---
Next Steps
Appointments, Referrals and Video Visits
Fax