Bone and Soft Tissue Tumor Program
Bone and soft tissue tumors are complex and can be difficult to diagnose. There are also many treatment options available, and some children will need a combination of these therapies. Whether your child has a benign tumor or malignant tumor (also called a sarcoma), or you're seeking a second opinion after a recent diagnosis, the experts at the Bone and Soft Tissue Tumor Program at CHOP will provide your family with personalized care. Our team approach to treatment means specialists from several areas collaborate in the care of each and every patient to provide your family with the best possible outcome.
Ewing Sarcoma: Sean's Story
Sean's dream of becoming a kicker was put on hold, temporarily. Precision treatment for Ewing sarcoma put him back on the field, where he can one day make his dream a reality.
View more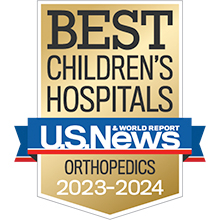 Among the top-ranked pediatric orthopaedics programs in the nation by U.S. News & World Report, CHOP's Division of Orthopaedics is one of the largest and most active in the world. For 2021-22, CHOP Orthopaedics again earned the No. 1 ranking in the nation on U.S. News & World Report's Honor Roll of Best Children's Hospitals.
Our Programs and Services
Your child's care team may include experts from several areas of medicine, including pediatric orthopaedic surgery, diagnostic radiology, oncology, radiation oncology and more.