Pulmonary Atresia
What is pulmonary atresia?
When a normal heart squeezes, the right ventricle (the lower right pumping chamber) contracts, pushing the blood out to the lungs. The pulmonary valve is an opening on the right side of the heart that helps prevent blood from leaking back into the heart between beats. In the congenital heart disease pulmonary atresia, the pulmonary valve has not formed correctly: it is sealed and can't open.
Many children with pulmonary atresia also have a ventricular septal defect (VSD), a hole in the tissue between the lower chambers of the heart. This combination is often called tetralogy of Fallot with pulmonary atresia.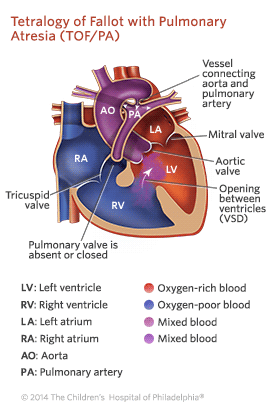 When there is not a ventricular septal defect, children with pulmonary atresia may also have:
A smaller-than-normal right ventricle
A defective tricuspid valve (between the upper and lower chambers on the right side of the heart)
Signs and symptoms of pulmonary atresia
Pulmonary atresia symptoms include:
Blue or purple tint to lips, skin and nails (cyanosis)
Shortness of breath
Difficulty feeding
Heart murmur — the heart sounds abnormal when a doctor listens with a stethoscope
Testing and diagnosis of pulmonary atresia
Pulmonary atresia may be diagnosed before birth, with a fetal echocardiogram (ultrasound). Sometimes, it's diagnosed a few hours or days after birth. Pediatricians from other hospitals refer newborns to the Cardiac Center when they notice symptoms.
Diagnosis for pulmonary atresia may require some or all of these tests:
Echocardiogram (also called "echo" or ultrasound): sound waves create an image of the heart
Electrocardiogram (ECG): a record of the electrical activity of the heart
Chest X-ray
Cardiac catheterization : a thin tube (catheter) is inserted into the heart through the large veins or arteries in the leg
Pulse oximetry: a painless way to monitor the oxygen content of the blood
Treatment for pulmonary atresia
If your baby is diagnosed with pulmonary atresia before birth, the Fetal Heart Program at Children's Hospital can prepare a plan for delivery and care immediately after birth. Your baby will be admitted to our Evelyn and Daniel M. Tabas Cardiac Intensive Care Unit (CICU) and may require a ventilator for help breathing. In the CICU, your baby will receive round-the-clock attention from a team of dedicated cardiac critical care medicine specialists.
The exact treatment for pulmonary atresia depends on each child's heart anatomy. Many cases can be treated with a cardiac catheterization technique called balloon valvuloplasty. In this procedure, doctors advance a thin tube (catheter) to the heart through a vein in the leg. A special catheter is used to create a hole in the closed-off pulmonary valve. Then, another catheter, which has a balloon on the end of it, is advanced across the valve. The balloon is briefly inflated to open up the valve, and then deflated and withdrawn.
In other cases, open heart surgery is required to repair pulmonary atresia. Surgeons may open the pulmonary valve by patching across it, or they may place a shunt (a narrow tube) from the aorta to the pulmonary artery (vessel to the lung) to be sure there is enough blood flow to the lungs. Another operation or cardiac catheterization may be required when the baby is older.
In some cases of pulmonary atresia, the right ventricle is poorly developed and cannot function adequately as a pump. In such cases, a "single ventricle" strategy may be necessary.
In children with pulmonary atresia and ventricular septal defect (VSD), surgery will be necessary to close the VSD. Sometimes the pulmonary arteries are very small. In this case, multiple surgeries and cardiac catheterization may be needed.
Outlook for pulmonary atresia
Because of enormous strides in medicine and technology, today most children born with pulmonary atresia go on to lead healthy, productive lives as adults.
Follow-up care for pulmonary atresia
Through adolescence
Children who have had surgical repair of pulmonary atresia require lifelong care by a cardiologist. Some receive medicines.
As "single ventricle survivors" get older, doctors are recognizing that, while some do fine, many experience complications, including lung, liver and gastrointestinal complications. The Cardiac Center at CHOP created the Single Ventricle Survivorship Clinic, part of the Fontan Rehabilitation, Wellness, Activity and Resilience Development (FORWARD) Program, to bring together doctors from different specialties to care for single ventricle survivors.
In addition, as a group, children with complex congenital heart defects who have had open heart surgery as infants are at a higher risk for neurodevelopmental issues when compared to children without congenital heart defects. The Cardiac Center at CHOP created the Cardiac Kids Developmental Follow-up Program to provide evaluation, screening and clinical care for children with complex congenital heart disease who are at risk for neurodevelopmental problems.
Our pediatric cardiologists follow patients until they are young adults, coordinating care with the primary care physicians.
Into adulthood
We will help older patients with the transition to an adult cardiologist.
The Philadelphia Adult Congenital Heart Center, a joint program of Children's Hospital of Philadelphia and Penn Medicine, meets the unique needs of adults who were born with heart defects.
Reviewed by Jack Rychik, MD
---
Next Steps
Outpatient Appointments
Second Opinions, Referrals and Information About Our Services
---
You Might Also Like