CHOP Neonatologist Recognized for Fetal Growth Retardation Research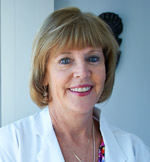 Rebecca A. Simmons, MD, an attending neonatologist at The Children's Hospital of Philadelphia, was the recent recipient of the Sheikh Hamdan Bin Rashid Al Maktoum Award for Medical Sciences for her research into the underlying molecular mechanisms that link fetal growth retardation to the later development of obesity and type 2 diabetes in adulthood.
The award recognizes individuals, universities, establishments and research centers worldwide for their outstanding achievements in the field of medicine and health. The award ceremony was held in December 2012 in conjunction with the 7th Dubai International Conference for Medical Sciences, which included scientific sessions and lectures on Neonatal and Fetal Medicine, Nutrition in Infancy, and Inborn Errors of Metabolism.
"I'm honored to receive this award," says Simmons. "This is an area where I think we may be able to have real impact."
So far, Dr. Simmons' research has established that fetal growth retardation as a result of decreased provision of nutrients due to placental insufficiency induces progressive mitochondrial dysfunction, oxidative stress, mtDNA mutations and electron transport defects.
"My goal now is to figure out the best way to feed the growth retarded newborn so they have good brain growth but not the accelerated growth that leads to excess weight gain and could predispose the baby for developing obesity in childhood and diabetes later in life," she says.
Dr. Simmons is also looking for biomarkers in the newborn that can help identify which children will develop obesity and type 2 diabetes.