Integrating Precision Medicine into Standard of Care for Children with Thyroid Cancer
Published on
At age 5, Rowan began having difficulty swallowing and developed a chronic cough. It was thought that she had asthma. When she was 9, her pediatrician noticed a lump on the right side of her neck. A biopsy revealed she had thyroid cancer, and a CT scan showed that it had spread not only to the lymph nodes in her neck but also to her lungs.
Thyroid cancer is uncommon in children, but when children have the disease, it is more likely to spread to the lymph nodes and the lungs than in adults. Even when that happens, pediatric patients have a more than 95% survival rate 20 to 30 years after treatment. Despite high survival rates, complications from surgery and medical therapy are possible.
A medical team in Rowan's home state of Ohio performed surgery to remove her thyroid and lymph nodes. When considering the next treatment steps, her family sought a second opinion at Children's Hospital of Philadelphia (CHOP). "I was part of a support group for parents of children with thyroid cancer, and everyone kept mentioning CHOP, saying, 'Go there!'" says Rowan's mother, Kristina.
At CHOP, Rowan was seen by pediatric endocrinologist Andrew Bauer, MD, Medical Director of the Pediatric Thyroid Center. It was decided that Rowan would receive radioactive iodine therapy in an effort to eliminate any cancerous thyroid cells remaining in her neck and lungs. Follow-up scans showed that the cancer in her neck was gone, but the cancer nodules in her lungs were growing.
Genetic testing of her tumor identified a common cancer-driving alteration, a NTRK-fusion, a gene that can be targeted with a specific medication that inhibits growth and causes the tumor to shrink. After several discussions, Rowan's mother agreed to start the medication, larotrectinib, and Dr. Bauer referred Rowan to the CHOP Advanced Pediatric Thyroid Cancer Therapeutics Clinic, a program co-directed by Dr. Bauer and pediatric oncologist Theodore Laetsch, MD, who leads the Developmental Therapeutics Program and the Very Rare Malignant Tumors Program.
Dr. Laetsch led a study, with the results published in the New England Journal of Medicine in 2018, that showed high efficacy and safety of larotrectinib in TRK fusion–positive cancers. Two months after starting larotrectinib, Rowan had significant tumor shrinkage, but residual cancer remained in her lungs.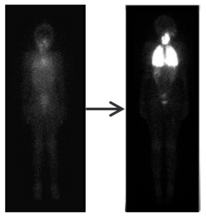 Larotrectinib in Child with TRK Fusion Thyroid Cancer There is early evidence suggesting that in some patients, medications like larotrectinib that block the genetic mutations that caused the cancer can increase the effectiveness of radioactive iodine therapy. So, Rowan received another round of radioactive iodine therapy. A scan showed that her tumor took up the radioactive iodine much more avidly than it had before treatment with larotrectinib. Following radioactive iodine therapy, Rowan has stopped taking larotrectinib and is being monitored to determine next steps.
Recently, Dr. Laetsch, along with CHOP endocrinology researcher Aime Franco, PhD, received a grant from the U.S. Department of Defense to understand how genetic mutations cause the cellular changes that lead to pediatric thyroid cancer and how inhibiting the mutation with targeted therapy impacts sensitivity to radioiodine therapy. A multisite clinical trial for pediatric thyroid cancer patients with lung metastases is now underway to evaluate the ability of the TRK inhibitor to re-sensitize tumors to radio iodine (NCT05024929). If the tumors take up the drug better, they will potentially be more responsive to the drug and will be more effectively eradicated.
Dr. Laetsch is also studying whether patients taking a TRK inhibitor need to take the medication indefinitely or whether therapy can be discontinued in patients with other cancer types, including sarcomas. In early work presented at the 2022 CTOS Annual Meeting, Dr. Laetsch reported that the majority of patients with sarcoma who discontinued larotrectinib had been able to maintain their response off therapy. Further, all the evaluable patients whose disease progressed when treatment was held responded again when treatment was restarted. Additional follow-up is ongoing to determine how long these responses can be maintained off treatment.
At CHOP, the Center for Precision Medicine for High-Risk Pediatric Cancer, co-led by Dr. Laetsch, was recently launched to care for patients like Rowan. Precision medicine for pediatric cancer has two areas of focus: (1) profiling each patient's cancer to identify unique vulnerabilities and prognostic or therapeutic markers, and (2) treatment based on an individual patient's identified risk and genetic targets. Rowan's case shows the promise of this approach for treating many kinds of cancers more safely, effectively and with fewer side effects.
---
Next Steps
Existing Patients or Family Members
New Patients, Referrals and 2nd Opinions