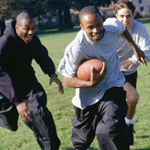 Every year, thousands of children are diagnosed with concussions — and it may be surprising to learn that only half of these head injuries are sports related.
Understanding concussions
A concussion is a mild traumatic brain injury which occurs when a blow to the head or body causes the brain to shake. This shaking can cause serious side effects and prevent the brain from functioning normally. Your child does not have to lose consciousness to have a concussion. In fact, only 10 percent of children with concussions report being "knocked out."
The symptoms of a concussion may show up immediately or within a few days of the injury. Concussion symptoms are related to how well the brain cells are functioning and working together. They can vary in severity and number, and may include:
Headache, nausea, vomiting
Balance problems, dizziness
Slowed reaction times
Sensitivity to light and/or sound
Fuzzy or blurry vision
Sleep issues such as sleeping more or less than usual, trouble falling asleep or feeling drowsy and fatigued
Difficulty concentrating and remembering
Confusion, feeling slower and feeling "foggy"
Feeling irritable, nervous
Feeling depressed or sad
If your child has suffered a blow to the head and you suspect a concussion, visit your pediatrician. Concussions must be diagnosed by a physician, who will do a series of tests.
Call 911 if your child has any of the following symptoms:
Seizures
Weakness or tingling in arms or legs
Confused, can't recognize people or places
Difficult to arouse or unable to awaken
Persistent vomiting
Slurred speech
Bloody or clear fluid from nose or ears
Road to recovery after a concussion
Once your child has been diagnosed with a concussion, there are many steps on the road to recovery. Your child will most likely not be able to return to school, play or regular activities for several days or weeks while the brain cells repair themselves.
Immediately after a concussion, complete cognitive (thinking, processing) and physical rest for up to a few days is beneficial. This may mean no school, no homework, as well as no computer, video games, texting or similar activities if these make symptoms worse. It also means no physical activity that could cause a sweat, increased heart rate or head trauma.
Good activities for your child during this phase of recovery are listening to audio books, drawing, light cooking, and maybe TV if it doesn't aggravate symptoms.
Once symptoms improve, your child can gradually return to school-related tasks and add light activities. Please refer to the "return to learn " and "return to play " plans provided by concussion experts from The Children's Hospital of Philadelphia to help promote recovery and prevent ongoing symptoms. You'll also find helpful videos and infographics about concussions.
In order to reduce the risk of another concussion while still recovering from the first concussion, your child should be cleared by a physician before returning to sports practice and play. In many states, this is the law.
Video resources
Concussion experts from The Children's Hospital of Philadelphia answer frequently asked questions about concussions.
Watch Video FAQs on concussion »
Contributed by: Patrick S. Pasquariello Jr., MD