Twin-twin Transfusion Syndrome (TTTS): Luke and Landon's Story
Before Luke and Landon were even born, they were already facing a list of obstacles. Since the time they were tiny babies, the 4-year-old identical twins have faced every challenge with as much courage as the superheroes they now love.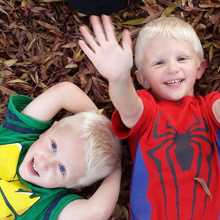 Sandra and Dan remember a palpable change of mood in the room not long into their 18-week ultrasound, and knew something was wrong with their twins. The ultrasound indicated that the twins were in stage 1 of twin-twin transfusion syndrome (TTTS), a condition in which the blood passes unequally between twins that share a placenta. The smaller twin (donor) pumps blood to the larger twin (recipient). Without intervention, the condition can be fatal for both twins.
To complicate matters further, one baby had a heart defect as well as a lung mass.
"It was like getting punched in the gut," recalls Dan. "We felt confused, alone and helpless."
Their local children's hospital confirmed that Luke, the twin with a lung mass and a suspected heart defect, had tetralogy of Fallot (TOF). Because the team there did not have much experience dealing with TTTS, they suggested the family go to The Children's Hospital of Philadelphia (CHOP).
At CHOP's Center for Fetal Diagnosis and Treatment, Luke and his brother Landon would have access to a team with extensive experience caring for babies with TTTS. And Luke would have the dedicated Fetal Heart Program team to monitor his TOF before birth, and top pediatric cardiologists to care for him after delivery.
After meeting with the teams at CHOP and learning that they had the ability to deliver the twins in the Hospital's Garbose Family Special Delivery Unit (SDU), Sandra and Dan didn't want to go anywhere else.
On the SDU, babies born with serious life-threatening conditions have immediate access to all the pediatric specialists they might need, including a specialized Neonatal Surgical Team. Twins with TTTS are at risk for cardiovascular complications, and given the fact that Luke had a serious heart condition that would likely require immediate attention after birth, this was particularly important.
Keeping a close eye on the twins
The family knew CHOP was the right place for Luke and Landon, but getting back and forth to Philadelphia wouldn't be easy. They lived in Delaware; both Sandra and Dan worked; and they had two other children to care for (Elijah and Ethan, 6 and 3 at the time). But they made it work, because they knew just how important prenatal follow-up appointments were for the twins.
Typically, stage 1 TTTS is closely monitored with periodic ultrasound exams. This helps doctors keep a close eye on the health of both twins and any signs of their condition getting worse. Fetal echocardiogram is another test used in monitoring TTTS to look for signs of changes in the fetal heart.
Around Thanksgiving 2010, the family had an appointment that would, once again, shake things up.
It appeared that the TTTS was putting stress on Luke's heart, which was already compromised due to his heart condition. The clinical team feared that if things continued to progress, Luke might not survive the pregnancy or be strong enough to make it through the surgery he would need after birth.
Using their experience with TTTS and a cardiac scoring system developed by Jack Rychik, MD, director of CHOP's Fetal Heart Program, the clinical team recommended fetal intervention with laser surgery.
Fetoscopic selective laser ablation is a minimally invasive surgery performed on the placenta to disconnect the communicating blood vessels between twins. This procedure, also called selective laser photocoagulation (SLPC), stops the sharing of blood from the donor twin to the recipient twin, with the goal of halting the progression of TTTS.
Only one week after laser surgery, performed by Mark Johnson, MD, and Julie Moldenhauer, MD, Luke's heart showed a tremendous change.
The next chapter
Luke and Landon were delivered by Sheila Kambin, MD, in the SDU at 33 weeks, weighing 4.5 lbs. and 4 lbs., respectively. Landon spent two weeks in CHOP's Newborn/Infant Intensive Care Unit (N/IICU) and then was able to go home.
Luke spent a few days in the Cardiac Intensive Care Unit where the team determined he did not need immediate surgery to repair his heart. The routine treatment for TOF is surgical repair within a few weeks or months after birth. Luke's condition had improved enough to allow him to be managed with this standard approach, so the team decided to give him some time to grow and gain strength before scheduling the surgery. He then spent four weeks gaining strength in the N/IICU before returning home to be with his brothers and parents.
During that time, doctors laid out a plan for the procedures he would eventually need to repair his heart, remove the mass from his lung, and repair a urologic condition called hypospadias, another condition discovered after he was born.
Luke continued to follow up with CHOP cardiologists and when he was 5 months old, he had open heart surgery performed by Thomas Spray, MD, chief of CHOP's Division of Cardiothoracic Surgery. At 9 months, Alan Flake, MD, a pediatric and fetal surgeon, removed a benign mass from Luke's lung called a bronchopulmonary sequestration. And finally, at 11 months, Luke came back for hypospadias repair with Stephen Zderic, MD, a pediatric urologist.
When the boys were 3 years old, they both returned to have surgery with Dr. Zderic to repair a hydrocele (a collection of fluid that can occur when the opening between the abdomen and the scrotum does not close after birth).
"I can't even tell you how grateful we are for all of the doctors and nurses that helped the boys and our family through all of those surgeries," say Sandra and Dan.
Luke and Landon today: Happy, healthy and AWESOME
In Feb. 2015, the boys turned 4. They love super heroes, Legos and Paw Patrol. They love being outside, riding their scooters and playing at the park.
What do their parents hope for Luke and Landon's future? "We just want them to be happy, healthy and AWESOME," Dan and Sandra say.
The family credits the care received at CHOP for the boys' great clinical outcomes. Both Luke and Landon have received physical therapy, developmental therapy and speech therapy to help them overcome any lasting effects of their diagnoses, but otherwise have required very little follow-up care. Luke continues to see a cardiologist once a year and has no restrictions on his activities.
Now that the family lives in California, Dan and Sandra continue to lean on the knowledge, skills and confidence they gained throughout their experiences at CHOP to be advocates for their children, no matter where they are.
"Every day we are grateful for the outstanding staff and quality of care we received at CHOP," says the couple. "We have our two amazingly awesome boys because of them, because God put those people at CHOP in our lives!"
Originally posted: October 2015
---
Next Steps
Appointments and Referrals (800-IN UTERO)