About the Diabetes Center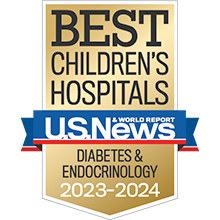 The Diabetes Center is part of CHOP's Division of Endocrinology and Diabetes, which earned the No. 1 ranking in U.S. News & World Report's Honor Roll of Best Children's Hospitals.
At the Diabetes Center, we understand that living with Type 1 or Type 2 diabetes can be an ongoing challenge for your entire family. That's why our team partners with patients and families to provide advanced treatment options and encourage independence — all so you and your child can learn to manage his condition with confidence.
"

i feel a partnership with chop. i don't feel alone in this.

"
Education and research
In addition to the evaluation and treatment of patients, an important part of our mission is to provide you and your child with educational materials and resources. Our goal is to help you both learn about diabetes so you can make informed decisions about diabetes management. We offer:
Diabetes self-management classes
Diabetes technology classes for those interested in insulin pump therapy or continuous glucose monitoring systems
Online diabetes education
Transitioning to adult care workshops
Diabetes support groups
Diabetes camps
We are also actively involved in diabetes research designed to improve treatment options and advance our current knowledge of the disease. Our team is constantly involved in research projects and participates in many local and national diabetes studies for patients with type 1 and type 2 diabetes.
Team approach
Effective diabetes management requires a team of medical professionals who each bring unique expertise to your child's care. At the Diabetes Center, a team of specially trained experts will help your child and family manage diabetes. Our team includes:
Pediatric endocrinologists are experts in managing your child's diabetes and other endocrine disorders, such as growth, puberty and thyroid issues. The endocrinologist will be available during all of your child's appointments.
Nurse practitioners (NPs), who evaluate your child's diabetes control and help you and your family with daily diabetes management. The NPs will also help your child navigate insulin dose changes, reach developmental goals, and incorporate diabetes care into daily activities.
Certified diabetes educators, who teach your child and family how to integrate every aspect of diabetes care into daily life. This team member will teach your child how to take medication and check blood glucose levels and ketones, and will work with you and your child to establish goals to keep diabetes management on track.
Dietitians, who teach you and your child how to make healthy eating part of your family's lifestyle.
Social workers, who help you navigate complicated insurance situations and find financial support and other resources you might need. Your child's social worker is also trained in family therapy and is there to help you adjust to life caring for a child with diabetes.
---
Next Steps
Appointments and Referrals
---
You Might Also Like